The Ponytail is Officially "Cool" -- Hooray!

Posted 02/24/11 at 11:07AM by Audrey Fine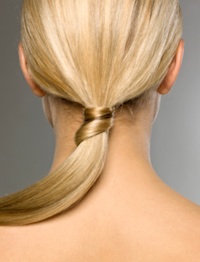 Before I cut my hair short I wore a ponytail every
single
solitary day. Seriously. I never didn't have hair things on my wrists, and the only time my kids -- who're 8-years-old -- ever saw me with my hair "down" was when I'd come home from getting highlights done and had it styled at the salon.
Of course, now that I'm bald, ponytails are all the rage. They're all over the red carpet (How
beautiful
did
Reese Witherspoon
look at the Oscars?) and they trotted their way down numerous runways at New York Fashion Week.
But, these aren't the "slick your wet hair back into a hair elastic and go" kind of ponytail -- nope, these are fancy pants ponies. And, here, for those of you who love having your hair pulled back, are the two simple steps for getting the look.
Step 1 -- The Prep
: Dry and style your hair to create the texture of the look you're going for. If you want it sleek, go super straight, if your ponytail's going to have volume to it, use a round brush, and, if you want waves, employ a curling iron.
Step 2 -- The How-To
: Experts advise keeping your chin up as you gather your hair into the ponytail. (You can brush it into place or just use your hands.) Keeping your head elevated helps to keep hair from sagging once it's secured with the elastic. If you're going for a sleek look, try coating your hands with a small amount of smoothing serum (try
Biolage Smoothing Serum
, $18) before gathering your hair into the pony.
Regardless of where you want your ponytail to be (high, medium or low-slung), make sure that you secure the elastic (I love
Goody Ouchless Extra Thick Elastics
, $3.49) as closely to your scalp as possible to prevent slippage.
Are you a sucker for ponytails, too? How about trying the
modern twist trend
that was all the rage at Fashion Week? It's a perfect ponytail alternative.

Our Expert Guides