My Three Picks for a Pretty New Year's Eve Makeup Look

Posted 12/27/11 at 10:19AM by Rebekah George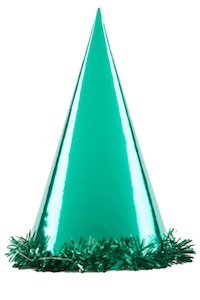 No matter what outfit you have planned for New Year's Eve -- from a fancy, sparkly dress to comfy jeans and a fleece, wearing festive makeup will help propel you into even more of a reveling mood. But, this year, instead of resorting to the traditional black smoky eye and red lip, why not try a few new trends? Here are the ones I'm contemplating for my big night out -- even though I still don't have the foggiest idea of what I'm going to wear!
Matte Lips
:
Super shiny, glossy red lips? So 2010. This year, try a
matte
red lip instead. The secret to pulling off this lip is feeling comfortable and looking confident. To wear it with aplomb, make sure you
exfoliate your lips
beforehand and use a lip balm to keep them hydrated and looking smooth. Lightly pat with a tissue and then apply your red lipstick. The one I'll be wearing?
CoverGirl Lip Perfection Lip Color in Hot
, $8.
Golden Nails
:
This year try a golden shade, which complements and brightens every skin tone. Plus, if you're sticking to a matte lip, it's OK to have a little sparkle on your nails. This holiday, I'm loving
Essie Nail Polish in Golden Nuggets
, $7.
A Berry Smoky Eye
:
Smoky eyes don't have to be black or charcoal -- which can sometimes feel too heavy. Instead, use berry tones like eggplant and plum to create a softer look. Here's how you do it: First, apply a lighter shade to the eye from the lashline to just underneath your brow's arch. Then use a darker shade in the same family along the lashline and crease for definition. Finish by lining your lids in a still darker shade. Try
CoverGirl SmokyShadowBlast in Purple/Plum
, $8.
What are you planning to wear on Saturday night?

Our Expert Guides