My New Favorite Lip Balm

Posted 12/10/10 at 03:46PM by Audrey Fine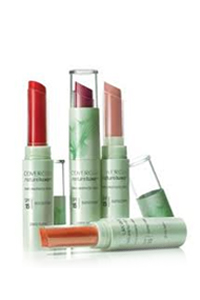 With all the hype surrounding Taylor Swift's new CoverGirl campaign (and her relationship with Jake Gyllenhaal) I have to admit that I was intrigued by the whole NatureLuxe buzz. From what I can gather, it's a new line that the makeup company has launched with Miss Swift as its face.
So during my weekly (OK, almost daily) stop at Rite Aid, I perused the products and picked up the new
CoverGirl NatureLuxe Gloss Balm
, $5.99 in both "Clove" and "Clay" and brought 'em home to try out.
Whaddaya know? I
really
like them. Remember, I'm not much of a lipstick girl so I'm always on the hunt for a gloss that will impart a nice color and a decent amount of sheen without making me feel like I have a sticky paste on my lips or look like a clown. And, I have to say that the NatureLuxe fit the bill. It's totally lightweight, not too shiny and, bonus, has SPF 15 -- perfect for my sunny, SoCal life. And, of course, the price can't be beat. I think I just found me a new favorite lip treat.
How 'bout you? Any recent drugstore finds rock your world? Please share the love. We want to know!
Oh, and if you haven't tried
this drugstore gem
, get cracking! It's awesome.

Our Expert Guides