Why Neon Makes Me Happy in Winter

Posted 02/01/12 at 06:15AM by Rebekah George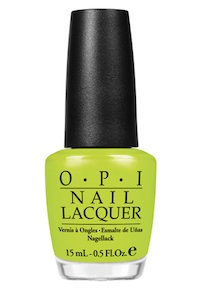 Lately, like some crazed character trapped in a Fellini flick, my eye has sought out vivid, neon shades wherever I can find them. As I pass store windows featuring dazzling spring fashions or flip through magazines with sneak peeks of bold, spring shades, I'm drawn to them like a moth to a flame.
And, it's easy to understand why: I've spent the last few months swaddled in black and freezing my tuchus off in New York City. Turns out
nothing
cheers up a bleak winter day like a dash of bright color.
It's gotten so bad that the other day, I bought a pair of bright pink jeans even though I know full well I won't wear them for a few more months. Merely knowing they're waiting for me in my closet makes me happy.
As I count down the days until the vernal equinox, I'm looking to brighter makeup and nails to help brighten my mood -- and my outfits. You see, unlike pastel sweater sets and, yes, pink jeans, you
can
wear neon makeup in the dead of winter. But wait! Before you run out and try on an intense green nail polish or bright yellow shadow, here are a few things you should know.
Katy Perry and Nicki Minaj might disagree, but sometimes eye-dilating fingertips can be overkill. Seek out shades like turquoise or bright pink and be wary of anything that has red or yellow tones, which can make the trend feel more 1980's than 2012.
If you have a light skin tone, try a green or purple shade. For darker skin tones, you can go orange or pink. Try
Ilmasqua Nail Varnish in Colide
, $14, or
OPI Nicki Minaj in Pink Friday
, $11.25. Don't choose a polish that also has sparkle; neon + sparkle = Care Bear, which isn't a good look for anyone who's not in elementary school. And, remember to keep your nails short. Brightly painted long nails are to be avoided at all costs.
If you're not one to get all jazzy with your nails, bright makeup can also look very good this time of year -- at least, when it's done correctly. I say, keep your skin matte, and use neutral, coppery tones on cheeks and lots of black mascara. Then, go for a pop of color on one area of your face -- line lids with a brighter blue liner, add some pink to the apples of your cheeks, or use a tangerine gloss to draw the attention to your mouth.
What am I trying -- and loving -- right now?
Milani Color Perfect Lipstick in Mandarin
, $4.49,
Kat Von D True Romance Eyeshadow Palette
, $36, and
CoverGirl Liquiline Blast Eyeliner in Blue Boom
, $7.99.
Craving a change but wary of neon? Not a problem. For more demure ways to brighten your makeup look this winter
click here
.

Our Expert Guides