My (Money-Saving) Go-To Holiday DIY Gift Project

Posted 12/22/11 at 11:26AM by Audrey Fine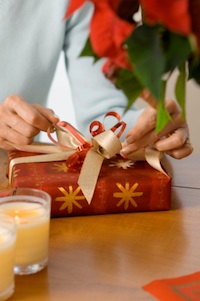 What did
you
do last weekend? Me? I, with the help of my 8-year-old daughter, transformed our kitchen into a makeshift beauty factory and spent roughly five hours whipping up holiday treats for friends and faculty.
Now, typically when you read the words "whip up" and "kitchen" in the same sentence you'd think there was some sort of cooking involved. Not this time. Our concoctions are not to be eaten -- they're meant to make your bath smell heavenly and beautify your skin. Yes, the DIY project du jour was making colored bath salts -- a recipe that we appropriated from natural beauty guru Janice Cox.
Intrigued? Well, as an early gift to you I'm going to share Cox's formula -- and all you'll have to do is stock up on some sturdy glass jars and festive holiday ribbon to wrap 'em up in.
Ingredients:
1 cup Epsom salts
1/4 cup kosher salt or sea salt, coarsely ground (available in many grocery stores)
Food coloring (we made batches of red and green to make 'em merry.)
Essential oils,(we used yummy smelling peppermint and cinnamon.)
Method:
Mix together the Epsom salts and kosher salt.
Add a few drops of your favorite food coloring and stir well to blend.
If you would like to scent your bath salts, add a few drops of the essential oils.
Pour the salts into a container with a lid or into a resealable plastic bag and close tightly.
Make a pretty directions label that tells the recipient to add about 1/4 cup of the salts under the running water as the bath is filling.

Looking for other holiday gift ideas? How about this scrumptious $10 goodie?

And, if you want to jumpstart your holiday mood, these great-smelling products will definitely help.

Our Expert Guides