Makeup Tips from "Dancing with the Stars"

Posted 10/14/10 at 08:05AM by Total Beauty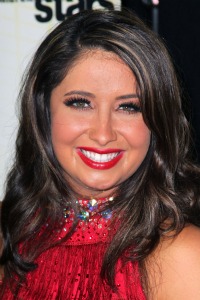 I'm obsessed with the show "Dancing with the Stars" and I love seeing the makeup on the celebrities week after week. I actually even dig the makeup artists so much, I've even become a fan of their
Facebook page
and am not embarrassed to admit it (well, sorta).
I do admit wholeheartedly, though, that the makeup looks on
"DWTS"
are totally over the top, but since the stars are on camera, you have to just embrace that fact and love it anyway. I do.
Here are some of the makeup tips I've learned from their Facebook page, courtesy of "DWTS" Head Makeup Artist, Melanie Mills:
Bristol's smoky eye was created by using
Kevyn Aucoin The Precision Eye Definer in Sparkle
, $27 all over the lid first, then
MAC Loose Pigment in Dark Soul
, $19.50 was blended all over and under her eyes, says Mills. The eyes were finished off with
Ardell # 33 Lashes
, $4.99. "We went for smoky and sexy for the rumba," she says.
To create Jennifer Grey's beautiful nude lips, use the
Kevyn Aucoin Lip Pencil in Bare
, $24 with
Nars Lipstick in Barbarella
, $24 and
Girlactik Beauty Star Gloss in Nude
, $14, says Mills.
And P.S. "everyone keeps saying how young Jennifer Grey looks! And she does! First of all, she has excellent skin in the first place by using
Dr. Lancer's GLO2W Kit
(Products range from $30 - $125)," she says.To recreate Brandy's lip look, use
Makeup For Ever Aqua Lip in #2C
, $17 with
MAC Lacquer in Klish Klash
, $13.55 and a touch of
NYX Diamond Sparkle Gloss in Gold Sparkle
, $4.99, says Mills.
To get a bronzed glow like the "DWTS" clan use "
St. Tropez Skin Finishing Bronzing Mist Spray
, $35 ... has anyone else noticed how fresh Florence Henderson looks? She is loving St. Tropez and is glowing," says Mills.
Insider tips like these help me achieve the look of my favorite stars. Now I just need to work on my dance moves ...
Here are more tools to help you look fabulous:Recreate your fave celeb hair and makeup looks from "DWTS" by flipping though our
Natural Beauty Look Book
. Then get more
expert makeup tips from makeup pro Landy Dean.

Our Expert Guides