I'm a Master at Hair Removal (And You Can Be Too)

Posted 08/30/11 at 11:39AM by Rebekah George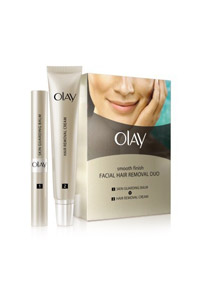 I'm of Greek and Lebanese descent. This is a great genetic Mediterranean mix that brings with it some good things, like moist, olive skin and large features. But along with the good also comes some bad, like lots of hair. Happily, I've learned a trick or two about how to deal with unwanted hair.
First, I learned to put down the tweezers and only entrust my brows to a pro. In fact, on my list of top beauty advice, getting your brows professionally done is
high
up there. Here's why: Your brows can make or break your face, and it's hard to get them perfectly symmetrical by yourself. I've been seeing Victoria at the Fekkai salon on 5th Avenue in New York City for nearly 15 years and she is the only person I trust. (I live in perpetual fear of her retiring.)
Here's an important tip if you decide to see a pro for yours: Have her outline how she plans to shape your brows with a white liner pencil first. This way you'll be able to visualize what you're in for and there won't be any surprises. (And, yes, I recommend tweezing over waxing because the skin under your eyes is so thin and delicate that waxing can be too harsh.)
Now let's talk about leg and underarm hair. My dream is to get laser hair removal done, but I haven't had the time to commit to the requisite eight weeks of appointments. My favorite razors are the
Gillette Venus Sensitive
, $7 for three. These disposable razors have five blades and do a great job.
To get your legs and underarms super smooth, always wait two minutes after getting into the shower before starting to shave. The warm water helps soften the hair follicle so you get a closer shave. I know razors are really expensive, but toss yours as soon you feel any pull, because that causes bumps and redness. Be sure to move your razor in two different directions -- up and across on an angle. I've road-tested this and it helps to get an even smoother shave. (Here are some expert tips on getting
your best-ever bikini area shave
.)
My final body hair complaint is that I have some above my lip. I shouldn't complain too much because my brother's girlfriend has to get hers waxed nearly every week; I'm more of an every-six-weeks kind of girl. Still, it's a pain because I have to plan around what I'm doing because I always break out after being waxed.
Because that's a total drag, I recently tried
Olay Smooth Finish Facial Hair Removal Duo
, $22.99, and I really liked the results. It's different than waxing. First you use a skin-guarding cream to prevent any redness or bumps. Then you apply the hair removal cream and leave it on for six to eight minutes. Then tissue it off and rinse -- that's all. I did this while checking my Facebook and, presto, my "'stache" was gone.
Do you have hair removal issues? Any great tips you want to share? Please do ...

Our Expert Guides