How I Keep My In-Flight Skin Smooth and Supple

Posted 04/13/12 at 09:33AM by Rebekah George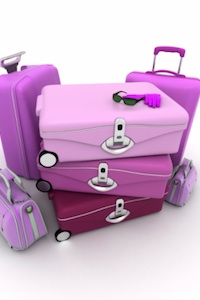 I log a ridiculous number of hours in the air travelling for work. From back and forth trips between New York and Los Angeles and zig-zagging my away around the country, my skin definitely takes a beating being on planes so much.
Whether your next flight is 2 hours or 12, all that recycled air combined with its inherent dryness, can (quite literally) suck the life out of your complexion by the time you touchdown. Here are a few tricks I've put to the test that can help.
First of all, skip makeup. Yes, I said it! Forget wearing makeup on an airplane. Makeup isn't going to harm your skin while you're flying. But, you're better off boarding bare faced so you can continually hydrate skin during the flight. OK, so maybe you're not going to look as chic as a celebrity, but I promise you'll be thankful post-flight.
Always apply an SPF when you fly (I like
Olay Complete Defense Daily UV Moisturizer
, $14.99). That may seem counter-intuitive but those UVA rays streaming into your coveted window seat are much stronger 30,000 feet in the air! I also like to keep my blind down in flight to block out rays even more.
I like to stash a rosewater spray in my carry-on and spritz my face every few hours to refresh. I immediately follow the spritz with a hydrating face cream made with moisturizing ingredients like hyaluronic acid or glycerin. This locks in the moisture from the rosewater spray. (I also apply and re-apply a hydrating lip balm because lips lack oil glands and tend to dry out very quickly.)
About 20 minutes before landing, I like to use face cleansing clothes (try
Olay Total Effects Age Defying Daily Cleansing Cloths
, $12.99) to freshen up and then I apply a little makeup to look bright and ready to go. But be sure to use moisturizing makeup to add extra hydration since it takes skin at least 24 hours to rebound from flying. A foundation like
CoverGirl CG Smoothers All-Day Hydrating Makeup
, $8.49, can work wonders to help prevent flaking and residual dryness.
Before you pack your toiletries bag, consider adding these