How a Great Drugstore Brand Helped Me Tighten My Purse Strings

Posted 11/18/10 at 03:59PM by Audrey Fine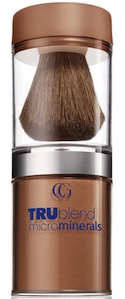 Life's greatest sadness (for me, anyway) is that the sun is bad for you. I miss basking in it. A lot. The warmth; the feeling of the rays soaking into my skin; the tan...
oh, how I miss the tan.
Sigh.
Because I am a responsible grown-up (yes, I'm typing this with a straight face), I have eschewed the sun's harmful rays for now 20 years. But that doesn't mean I've embraced my pale face. On the contrary, I've long used
Guerlain Terracotta Bronzing Powder
, $65, because I've found it best replicates that sun-kissed look I miss so much. But, I've also realized that it's flipping expensive and, these days, is downright cost prohibitive. So, I started looking for a reasonably priced alternative and after trying upwards of ten different brands, I finally locked in on one that I love just as much. (
More
even, because it's such a great bargain!)
CoverGirl TruBlend Microminerals Bronzer
, $10.99, is simply awesome. It imparts just the right amount of a sun-kissed glow to look natural, not fake-baked, and it goes on evenly and feels super light. (It shockingly smells really good, too.) And at nearly a sixth of the cost of the Terracotta, I don't have to feel guilty about using it. A win/win situation all around.
Have any luxe for less products that you love? Let's hear 'em...

Our Expert Guides