My Favorite $10 Holiday Gift

Posted 12/08/10 at 10:51AM by Rebekah George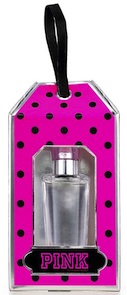 When I shop for holiday presents for my friends and family, I look for gifts that don't require wrapping. Not just because wrapping paper is useless waste of paper, but also because trying to wrap a gift perfectly is a useless waste of time!
Now, before you start thinking that everyone on my list gets stuck with a pair of Isotoner slippers that come pre-wrapped in holiday packaging, I want to clue you into a super-cute gift that fits my no-wrap bill. Victoria's Secret Ornament Fragrances not only come in an adorable ornament-like packaging worthy of a spot on your tree, but there is a fragrance for everyone on your list. From the fun
Victoria's Secret Pink Fragrance
to the sexier
Victoria's Secret Dream Angels Heavenly Eau de Parfum
, I've stocked up on loads of these to parcel out. Plus, since they cost only 10 dollars each, you won't have to leave anyone off your list. Merry indeed.
Have non-fragrance types on your list? Maybe my new fave
mascara sampler set
will do the trick.

Our Expert Guides