The Three Fall Fragrances I'm Placing on My Vanity

Posted 09/01/11 at 02:34PM by Audrey Fine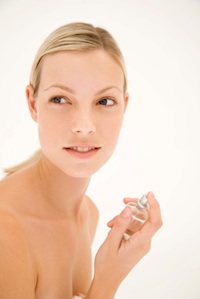 I've written before about how
Yves Saint Laurent Paris
, $68, is the only fragrance I've ever owned. But, to indoctrinate those of you who're new to the party, it's because my high school boyfriend's
mother
wore it and I became obsessed with it. (With him too, but that's a story for a different day -- and blog. Not to mention an Oedipal field day.)
Over the years since, what, ninth grade?, I must've gone through more than 20 of those cute little red-topped bottles. But now I'm ready to make a change. I'm at that point in my life where I want to mix things up and I figure that starting with something as innocuous as perfume is as good a place as any.
So last weekend, with my looming renaissance foremost in mind (and a generous heap of birthday money from my parents burning a hole in my pocket), I headed to the mall to find my new signature scent -- with one caveat: I wanted only to try new releases -- the last thing I needed was to glom onto some other dude's mom's favorite.
Several hours (and sneezing fits) later, I emerged with three beautiful new bottles to place atop my dresser. (Full disclosure; Paris is still there as a crutch. Baby steps.)
Here are the three that are going to help wean me off that French sauce ...
No. 1
:
Gelsomino Nobile Eau de Parfum
, $108. First, let me say that I'm a sucker for jasmine. Next, I'll point out that this glorious scent from Italian perfumers Acqua di Parma is chockfull of those scrumptious flowers. It also has notes of tuberose and cedar and other exotic things I can't remember -- but they all come together beautifully and wafted their way right into my shopping bag.
No. 2
:
Chanel No. 19 Poudre Eau de Parfum Spray
, $85. OK, I know I said that I only wanted to dally with new scents, but this modern take on Chanel's classic No. 19 was just too divine to pass on because of semantics. Simply put, this update to the 1971 original smells like a big, fluffy bouquet of irises that's sitting in a sunny kitchen in a glorious Mediterranean villa that just happens to be owned by George Clooney. It's
that
heavenly.
No. 3:
Cartier Baiser Vole
, $100. Translated from the French, Baiser Vole means "stolen kiss" and I'd say that this is one aptly named fragrance. Here, powdery lilies manage to shake off any hint of "grandma" that may have previously been associated with the idea of powdered scents. It's floral and fresh, and the little golden-stoppered bottle is beautiful. Love it.
Now that I've spent a small fortune on my new olfactory bliss, I'm determined to kick that Paris habit -- and the inertia it represents in my life -- once and for all.

Our Expert Guides