How Drew Barrymore Should Care for Her New Red Hair

Posted 04/14/11 at 03:28PM by Audrey Fine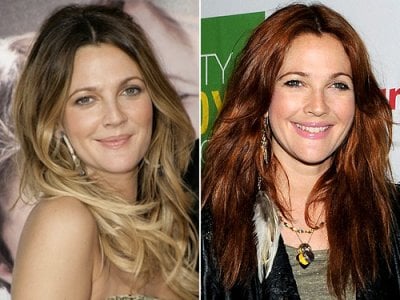 Hair color chameleon Drew Barrymore debuted a new hue last night at a Hollywood book launch for her nutritionist pal Kimberly Snyder. (Drew's "I don't like to diet, I like to eat right and that's what Kim's book is all about" quote graces the cover of "The Beauty Detox Solution", which hit shelves on Tuesday.)
Drew, who's been blonde, brown, red and every mixture of the three, most recently a blonde/brown ombre (as at left), showed up at the London Hotel rooftop without her new beau, Will Kopelman, but the paparazzi had enough of a field day with her new hair color to be satisfied.
Of course, Drew has the knowledge of every top colorist at her fingertips but here are a few things any of us who're contemplating red should definitely know...
Commit. But be sure
: Before taking the plunge, discuss it (in length) with your stylist -- you might even want to try on a red wig -- red is NOT a color that everyone can pull off.
Choose the hue carefully
: Color pro Brad Johns (color director for the ritzy Red Door spas) says, "If you pick the wrong red shade you (or we) may not be able to get it out or fix it." And, he cautions that, "When you go red it should be a red that appears in nature, not a red that appears on a clown or a vegetable. Look for coppery, cinnamon, strawberry and auburn reds. Avoid aubergine, cherry, orange and pumpkin hues. If it doesn't appear in nature it won't appear natural on you."
Consider red highlights instead
: Celeb colorist Tracy Cunningham says because it's so difficult to achieve a natural looking red shade, opt instead for fine highlights in an auburn shade that will work with your existing color.
Take proper care of your color
: Red is particularly hard for hair to hold on to (the color molecules are smaller than those of other shades) and, subsequently, color can become lackluster and greenish rather quickly. It's of utmost importance, therefore, to use shampoos and conditioners that are specifically designed for color-treated hair. (Try
Pantene Pro-V Color Shine Hair Solutions Color Preserve Shine Shampoo
, $5.99 and
Pantene Pro-V Color Hair Solutions Color Preserve Shine Conditioner
, $5.99.)
Think you'd ever dare to go red? Have you? (Do you love it or regret it?) How 'bout
a really short pixie cut
? Have you tried that?

Our Expert Guides