The Celebrity Beauty Look I'm Loving Today

Posted 03/23/11 at 02:20PM by Kristen Giordani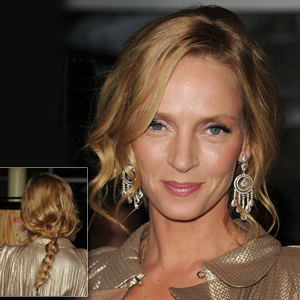 I so admire Uma Thurman's effortless, unenhanced approach to beauty. She's 41 and has never looked better -- in my opinion.
This is likely why she was able to nab the lead role in "Ceremony" where she plays opposite 24-year-old Michael Angarano. (Remember the kid who played Jack's son Elliot on "Will & Grace"?!) She
is
meant to be older than he is in the film (obviously), but probably not a whopping 17 years older. Which is why, today, I want to celebrate the gorgeous hair and makeup look she wore to the premiere of this movie last night. It's casual glamour at its best.
Here's how I plan to recreate the look:
Hair
Step 1
: Let hair air dry the night before you plan to create this style or do it on second-day hair.
Step 2
: Secure your hair back into a loose low ponytail so your face framing layers are set free.
Step 3
: Braid the ponytail and secure the ends with an elastic.
Step 4
: Use a 1 1/4-inch curling iron to add soft curls to any layers that are hanging. Wrap small sections of hair around the iron for looser finish. Spritz with a bit of hairspray for hold (try
Herbal Essences Tousle Me Softly Hairspray
, $3.99.
Makeup
Step 1
: Even out your skin tone by applying foundation only where you need it and further camouflaging any visible imperfections with concealer.
Step 2
: Dust matte bronzer (try
Trish McEvoy Matte Bronzer
, $28) on your forehead, cheeks, nose and chin to warm up your skin tone a touch.
Step 3
: Sweep a bit of rosy mauve-colored blush on the apples of your cheeks.
Step 4
: Blend a matte, rosy bronze shadow (or use a combo of your blush and bronzer) from lashlines to just below your brows.
Step 5
: Sweep a shimmery lighter mauve shadow on your lids -- just to your creases. Try
CoverGirl Eye Enhancers 1-Kit Shadows in Forever Fig
, $3.
Step 6
: Apply black cream eyeliner along top lashlines -- make the line much thicker from the midpoint to the outer corners of your eyes. Extend the line a bit past your outer corners.
Step 7
: Up the drama factor by applying a half strip of lashes on the outer corners of your eyes (try
MAC 20 Lash
, $13. Apply mascara before and after you stick them on.
Step 8
: Slick on a shimmery rose lipstick. Try
Elizabeth Arden Ceramide Plump Perfect Lipstick in TK
, $21.50.
Not into Thurman's look? Maybe copying
Blake Lively's makeup look
or
Lindsay Price's hair and makeup
styles are more your cup o' tea.

Our Expert Guides