The Celeb Look I'm Coveting This Week

Posted 06/22/11 at 08:05PM by Audrey Fine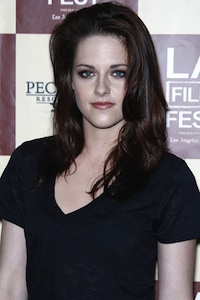 While surfing the gossip sites this morning over a cup of my new favorite -- green tea -- I stumbled upon a photo of Kristen Stewart at the LA Film Festival. The accompanying story was all about how she attended the screening of some movie with Taylor Lautner
not
Robert Pattinson but I didn't care ... I was much more taken with her beautiful makeup.
I don't know what's with me coveting these young girls' looks these days (last week it was
Selena Gomez
) but there are really some pretty, natural-looking faces walking around Hollywood these days.
Again, I got on the horn to find out who'd done KStew's (aren't I hip?) makeup and wasn't surprised in the least that it was Fiona Stiles. Stiles has worked her magic on all sorts of gorgeous celeb types like Reese Witherspoon and Halle Berry so it didn't come as any great shock to me that she was responsible for Kristen's beautiful look.
Here's what she did:
Face
: "Using a synthetic brush I swiped on the COVERGIRL NatureLuxe Silk Foundation where needed and then blended it out with a damp sponge so the coverage was sheer and luminous. A light dusting of translucent powder set the foundation. I swept a bit of the
COVERGIRL Cheekers Blush in Natural Rose
, $3, onto the apples of the cheeks for a soft and subtle flush."
Eyes
: "For the eyes, I smudged on the deep rusty bronze color of the Try
COVERGIRL Smoky ShadowBlast in Purple Plume
$6 from the lash line to above the crease blending it toward the brow bone. Then I used a bit of the plumy color in the
COVERGIRL Exact Eyelights Eye-Brightening Eyeshadow in the quad for Green Eyes
, $5.99, over the ShadowBlast to add depth to the color and to add a bit more definition at the outer corners of the eyes, and a soft sweeping of color under the lower lashes. I lined the waterline with
COVERGIRL Liquiline Blast Eyeliner in Black Fire
, $8.99, and smudged a bit into the top lash line as well as blended a little at the outer corners of the eyes. Two coats of
COVERGIRL NatureLuxe Mousse Mascara in Black
, $5.49, top and bottom gave the final touch of glam."
Lips
: For the lips, I lined the lips all over first with
COVERGIRL LipPerfection Lip Liner in Smoky
, $5, and then applied a light coat of
COVERGIRL LipPerfection Lipcolor in Heavenly
, $5, for a touch of shine."
And, there you have it. (I promise not to pick Elle Fanning for next week!)

Our Expert Guides