4 Chic (and Easy) Hair Trends I'm Trying This Spring

Posted 03/31/11 at 03:27PM by Audrey Fine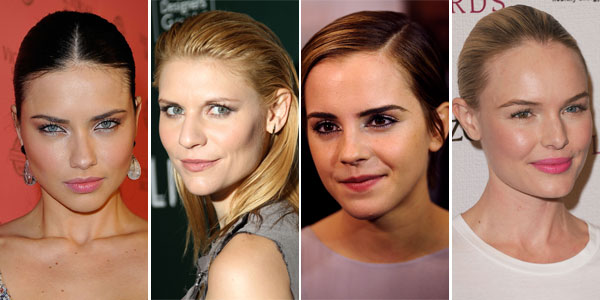 Slicked back hair was all over the high fashion runways for 2011 (Chanel, Cynthia Rowley and Georges Chakra shows
really
rocked it) and, happily for those of us who love a pretty,
no-fuss
style, it's one of the hottest hair trends for spring.
Of course, Hollywood has fallen right into step with the style as we've spotted a slew of starlets wearing varying versions of the chic slicked look.
Which permutation do you prefer?
#1: Adriana Lima
: The bodacious Victoria's Secret model typically flaunts a more voluminous style along with the rest of her (not-so-secret) assets, but yesterday at a VS Swimwear event in Los Angeles, the Brazilian bombshell had her hair parted down the middle and slicked back into a ponytail. (The ponytail
is officially cool
, you know.)
#2: Claire Danes
: The 32-year-old actress who's coming back to TV (yay!) in the new Showtime show "Homeland," typically wears her hair (whether it's copper or blonde) loose and flowing. Not so at last month's 13 Annual Costume Designers Guild Awards where she had the top slicked back but left the ends free to flow.
#3: Emma Watson
: News of Hermione's decision to take time off from Brown has eclipsed the coverage of her "new 'do" of late but that doesn't mean that she's not still turning heads with her flattering pixie cut. At the recent ELLE Style Awards (where she won an "Icon" award), the diminutive star wore her slicked back short hair in a graceful (and flattering) side part.
#4: Kate Bosworth
: The "Superman Returns" actress often wears her super-fine hair pulled back (with a face like that, can you blame her?) so it's no wonder that she jumped on the slicked back bandwagon with a chic chignon for the recent Hollywood Style Awards where she presented her stylist Cher Coulter with the Stylist of the Year Award.
Which of the four is your favorite (I like 'em all) and, do you think this is a trend that you'll test drive? (If not, here are some other
spring trends for you to try
.)

Our Expert Guides