Win an Aussie Makeover

Posted by Sarah on July 14, 2008 at 04:27PM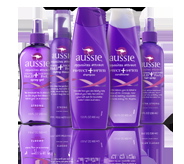 Got helmet hair? If you have photographic proof then that shellacked 'do could win you a trip to New York and a makeover with a celebrity stylist.
To promote the launch of their Opposites Attract line of products (which claim to make hair soft and touchable while giving strong hold), Aussie is sponsoring this makeover contest. To enter, go to their Web site and submit a picture of yourself with helmet hair. The deadline isn't until September 15 so you've got a little time to dig through those photo albums to find your stiffest look. Good luck!