Twilight Makeup Line by DuWop Cosmetics

Posted by Melissa on June 24, 2009 at 05:52PM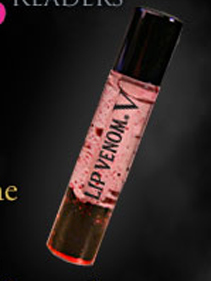 Thanks to DuWop Cosmetics, while we all impatiently await the second film of the "Twilight" series, "New Moon," we can imitate the looks of our beloved vampire characters with an official "Twilight" makeup line!
DuWop -- the brand that was used by makeup artists on the "New Moon" set -- plans to debut the full line this fall. For now, fans can try out a preview of the anticipated Twilight Venom, called Lip Venom V. This "Twilight" version of their best-selling lip plumper is described as a "shimmering crimson lip stain suspended in a venom-laced liquid lip conditioner with a bite."
Uh ... what? Well, whatever it takes to get a plump pucker worthy of an Edward smooch. (Or bite!) The separated formulas create a blood-like liquid and the instructions suggest users "shake before use to represent the blending of the human and vampire worlds."
Whether you're a crazed "Twilight" groupie or a lip plumper fanatic, for $16 this limited-edition product might be worth a try. (Or check out these lip plumpers.)
Can't wait for the rest of the line? Try this video to complete your vampire look.