Too Drunk to Do Your Full Skin Care Routine Sometimes?

Posted by Kristen on April 22, 2010 at 04:55PM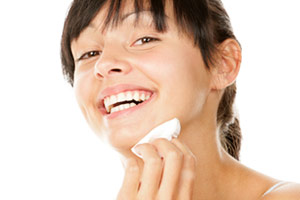 I can't lie -- it was last night. Hope the boss isn't reading. Anywho … if you're just too tipsy or tired before you hit the sack, but know the skin gods will curse you from above (by way of a gigantic zit) if you were to skip a washing, check out which face wipes will take off every last bit of that black liquid liner (this one's my fave) and the shellac you call concealer (see top-rated ones here). These 9 Best Face Cleansing Towelettes, ahem … wiped out the competition.
No. 9: Almay Makeup Remover Towelettes, $1.45
One reader testifies, "I am in musicals and wear a lot of makeup, so I need a good remover pad, and this stuff is amazing." See why another woman cuts the towelettes in half.
No. 8: Garnier Nutritioniste Nutri-Pure Detoxifying Wet Cleansing Towelettes, $5.99
One reader says, "I have tried quite a few brands depending what's on sale, but I always come back to these. They smell so good and don't leave anything behind but the scent. These remove all my makeup/gunk and oil." Read why other women dig these wipes.
No. 7: Dove Daily Hydrating Cleansing Cloths, $5.69
The 545 readers who reviewed these cloths say they're a "great product!" Readers love how "they cleanse my skin with a gentle scrub and leave it soft and moisturized." See why readers find them so freakin' handy.
No. 6: Neutrogena Make-up Remover Cleansing Towelettes, $8.19
One reader says "these wipes are like magic." Other readers love how "these super soft wipes make it super fast and easy to remove makeup before you hit the sack." See why readers are obsessed.
• When you aren't too smashed to do the whole soap and water routine, try one of our readers' top 22 facial cleansers.
• Partied a bit too hard last night? Learn how to hide your hangover with makeup by watching this video.
• Get sweet skin care tips and more round ups of best and worst skin care products.
• Want in on a little beauty discount secret? See how to get great deals and exclusive offers on beauty products here.
• Keep up with the latest in beauty -- follow us on Twitter, add us on YouTube and friend us on Facebook.