Tan Tax Starts Today, So Get Your Golden Body Glow the Safe Way

Posted by Kristen on June 30, 2010 at 06:16PM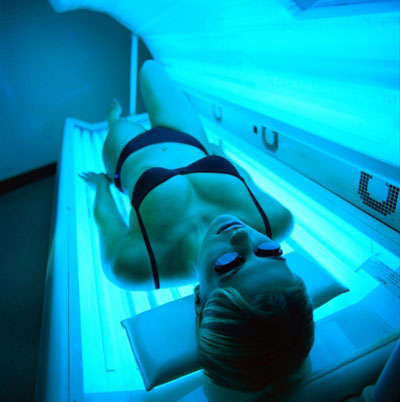 Well ladies, it's finally come to this (and just in time for the summer tanning season): The U.S. government will implement a 10 percent tax on indoor tanning starting TODAY. Pale-skinned ladies better stock up on some of these highest rated self-tanners if they don't want their wallet burned.
It's a well-documented fact that indoor tanning beds can cause melanoma, the deadliest of skin cancers, and if the government already induces "sin taxes" on harmful products like tobacco (see if you are guilty of indulging in other skin sins here), then why stop at beauty treatments that can harm your health?
Doctor Debra Jaliman, a board-certified dermatologist and Assistant Clinical Professor at Mount Sinai School of Medicine in New York City, says that tanning beds are so dangerous that even the new tax isn't enough and that they should be outlawed for good: "We know that indoor tanning increases your chances of getting a melanoma by 75 percent and I do believe that this tax will be a deterrent. But there still needs to be legislation in every state to prevent minors from using these destructive devices."
Making indoor tanning illegal would likely have all sorts of fake tan lovers and conservatives up in arms. The tax alone has already created quite a ruckus -- protests against the tax are already well underway.
Unlike the protesters though, we've already made up our minds about tanning beds. From a health and beauty standpoint we know they are bad for your skin's business, so why even bother? Especially when you can get a safe, sunless tan from a bottle that looks just as gorgeous (see this step-by-step guide to getting a fabulous full-body faux tan).
And to further sway you from the tanning bed, here are some general tips for applying self-tanning lotion and mousse formulas:
*Exfoliate your entire body in the shower with a loofah and shave before application.
*Moisturize dry areas of your body, typically around your feet, ankles, knees, hands, wrists and elbows with a light layer of lotion.
*Gently smooth a generous amount of product over your entire body, starting at your feet making your way up to your legs in long, even strokes.
*Avoid aggressively rubbing product into skin, as this tends to make your tan uneven.
*It's better to over apply product than to under apply it too, so use a generous amount of lotion or mousse. Areas that get missed create that streaky look.
*Once you are fully covered, wait the allotted time recommended on the bottle before putting on clothes.
*Try not to exercise or get wet for the rest of the day. Once you shower hours later to remove excess product, your skin should be gorgeously bronzed.
So what do you think about the tax on indoor tanning? Will it deter you from hitting the tanning salon?
*Check out these beautifully bronzed celebrities for more proof that you don't need a tanning bed to get a gilded glow
*And see these top-rated bronzers that will also help you achieve a faux tan glow
*Get more skin care tips and health and beauty news here
*Want in on a little beauty discount secret? See how to get great deals and exclusive offers on beauty products here
*Keep up with the latest in beauty -- follow us on Twitter, add us on YouTube or become a fan on Facebook.