Sexy Hair and Makeup For Holiday Parties

Posted by Anna on January 10, 2011 at 06:00PM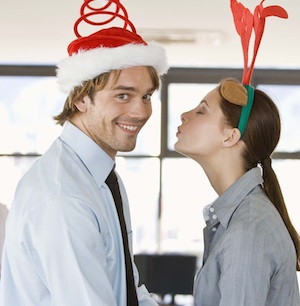 My Holiday Party List:
• Christmas tree bigger than my neighbors': Check.
• Flowy top that will forgive my lack of control in buffet-table situations: Check.
• Smokin' heels that will make up for my less-than-sexy flowy top: Check.
• Great presents for all my friends thanks to this nifty gift guide that covers everyone on the list: Check.
• Flawless hair and makeup that will get me smooched by the hot coworker I probably should not have invited: Check.
… Sorry if that last item was a bit too honest, but let's face it, the best way to keep warm this holiday season is to nuzzle up to your loved one. And the best way to do that is by looking hot, duh.
That's why I went to celebrity hairstylist Peter Lamas to get ideas for the best holiday hairstyles and New York City-based makeup artist and founder of Cheek to Chic Raychel Wade for the sexiest makeup looks. Below is the no-fail makeup and hair combo I picked to look my holiday best.
Best holiday makeup look: Christina Ricci's bold, crimson lips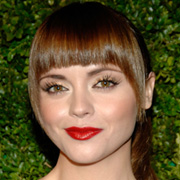 How Wade says to get the look:
Face: First, start by applying a foundation that offers flawless coverage like Giorgio Armani Luminous Silk Foundation, $59 using a foundation brush. For cheeks, you want to keep your skin slightly dewy, so opt for a cream blush in a warm color like La Prairie Cellular Radiance Cream Blush in Honey Glow, $70. Dab the color onto your cheeks using your pointer finger. Blend from the apples of your cheeks upward towards your ears.
Lips: Red lipstick is the focal point of this look, so you'll want to do this step before your eyes. This will allow you to better adjust the color/intensity for your eye makeup to prevent you from looking too over-the-top. So go ahead and paint on a brilliant true red lipstick like Revlon Super Lustrous Lipstick in Ravish Me Red, $7.99 using a lip brush to achieve a precise application.
Eyes: Keep eyes simple by choosing a mid-tone golden shadow NYX Single Eyeshadow in Blondie, $5.50, which will pull together the warm colors applied elsewhere. Next, create a thin line across your top lash line using black gel liner like Paula's Choice Constant Color Gel Eye Liner in Onyx, $4.95. Finally, apply a coat of mascara to top and bottom lashes or, if you are feeling ambitious, try applying single faux eyelashes sparingly across your top lash line before coating lashes in black mascara.
Best holiday hairstyle: Kate Bosworth's chic French twist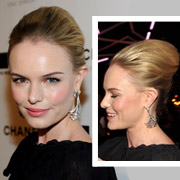 How Lamas says to get the look:
Step 1: Working with dry hair, spray a light-hold heat protectant spray like Peter Lamas Naturals Hold Me Thermal Styling Spray, $14.99 all over dry hair.
Step 2: Set hair in large hot rollers, rolling each section away from your face. Once hair is set, remove rollers and lightly brush hair to break up the curl.
Step 3: Separate all of your hair into medium-sized sections. Beginning at the front, comb hair forward to smooth the section and then backcomb hair to build body at the base. Repeat with each section.
Step 4: Lightly brush hair back and gather into a low ponytail. Twist hair upward, tucking in the ends as you work from the bottom up, secure with bobby pins to lock hair in place.
Step 5: Finish by lightly smoothing down any bumps on the top and sides of your hair with a comb. Spritz lightly with hairspray to set the look.