NYFW Beauty Report: Would You Wear Caviar-Inspired Nails?

Posted by Anna on February 18, 2011 at 10:19AM

Our Executive Editor has been away at New York Fashion Week running from show to show in stilettos (OK, so she really wore flat black boots, but stilettos just sound better), tweeting backstage beauty tips, and freezing her now L.A. weather-accustomed fanny off.
Meanwhile I've been salivating over the gorgeous makeup trends, scoffing at the Snooki-inspired hairstyle seen at Peter Som, and discovering who is sneaking into the Mercedes Benz tent. What I discovered during all of this "research" is what I really care most about is the insane, yet brilliant, nail art that's been making news. Have you seen how absurd, amazing, downright disturbing and outrageously fun it all is?! And can you tell how excited and confused it makes me?
Here are some of my favorite NYFW nail highlights. The question is though, would you actually wear any of these designs? You know, in "real" life?
At Ruffian, Kristina Estabrooks made luxurious black and shell tuxedo manicures.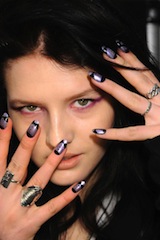 At Jason Wu, Roxanne Valinoti created gilded burgundy baroque nails.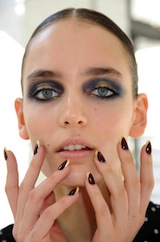 At Binetti, Estabrooks took nail "art" to a whole new level -- the ManiCUBE, a Cubism-inspired style with a black base and "slim-lined" with tips coated in deep burgundy. Then, after the initial color was applied, manicures were embellished with 18 individual custom made adornments comprised of broken glass, fragmented mirrors, hardware nails and dramatic noir feathers. I'm not making this stuff up.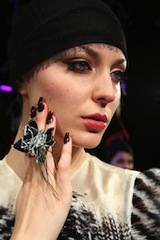 Pattie Yankee worked backstage to create the much talked about caviar nails for models at the Cushnie et Ochs show. They aren't actually made of fish eggs (sorry to disappoint), but instead are black seed beads and glitter glued onto a black nail polish base.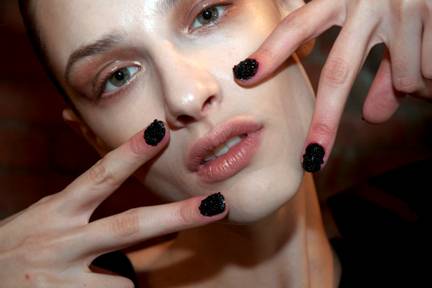 At Monique Lhuillier, Wanda Ruiz created the "Shady Lady Manicure" -- a super opaque nude base with an ever so thin tip in a dark amethyst color.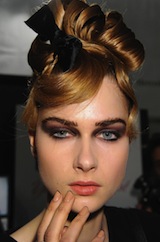 At Jen Kao, Estabrooks again (this chick really gets around!) created long, almond shape nails in a psychedelic stained glass effect that reminds me of "Avatar."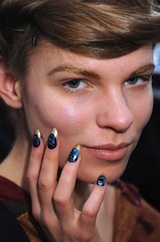 At TIBI, Pattie Yankee created a neon pink French manicure on top of just a clear gloss. Now this, I would definitely wear in real life.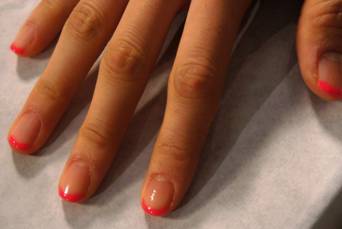 At the Jeremy Scott show, Pattie Yankee went glitter crazy with multi-colored manicures.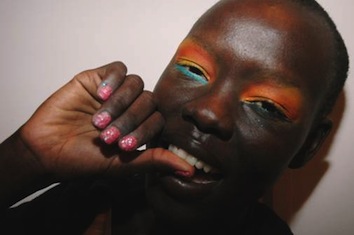 At The Blonds show, Estabrooks (who will likely be in a coma come Friday) "introduced 22 handmade, theatrical manicures inspired by Eastern culture meets ultra glam -- in the form of fortune cookies, red sparkly Chinese characters, "HIYA" and googly-eyed nails, and absolutely fabulous "Tranny-cures" comprised of Swarovski crystals and crushed glass with ombre undertones to color coordinate with outfits on the runway."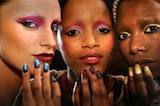 Alright, now that you have seen some awesome runway nail looks, which do you love and which do you hate?