MTV Movie Awards: Which Celebrity Hairstyles and Makeup Looked the Best? Cast Your Vote!

Posted by Kristen on June 7, 2010 at 02:11PM

Young Hollywood reigned supreme last night as everyone who's anyone in the under 30 crowd, descended upon the Gibson Amphitheatre in Los Angeles for the 2010 MTV Movie Awards.
And, while the "Twilight" franchise predictably snagged most of the golden popcorn, the big shock was how pretty and glowing most of the starlets looked. (Learn how to get good and golden like these best bronzed celebrities.) Ok, Sandra Bullock kissing Scarlett Johansson was a little shocking, too.
For a night that's typically noted for its far-out fashion and daring makeup, (like these ballsy hairstyles) most of the starlets showed incredible restraint and the result was pure celeb glamour -- much like they did at the Emmy Awards last year -- relive those "do" moments.
Naturally, every rule has an exception and last night it was Katy Perry and her Smurf-inspired neon blue hair that stood out in a sea of otherwise demure demoiselles. Heck, Ms. Perry's wacky look even made red carpet correspondent-for-a-night, Snooki, appear downright chic by comparison.
But, let's not concentrate on the negative when there was so much positivity! Who do you think looked the best?
Was it (A) MTV's own Audrina Patridge in a silver-sequined number, or (B) big winner Kristen Stewart in her Dolce & Gabanna brocade dress and long pony? Or maybe Zac Efron's arm candy, (C) Vanessa Hudgens with her signature long brown cascades of curls in a white Jenny Packham babydoll? Or perhaps the fresh-faced (D) Scarlett Johansson in D&G and a colorful arm tattoo, or newly blonde (E) Lindsay Lohan in a low cut, beaded Pamela Rolan jumpsuit that -- surprise -- was long enough to cover her SCRAM alcohol-monitoring bracelet? Or maybe you preferred (F) Paris Hilton's cream, satin, feathered frock with simple-old Hollywood glam hair?
Pick your letter and let us know below!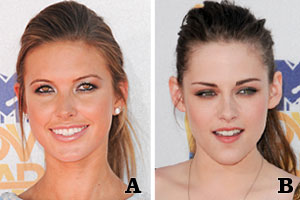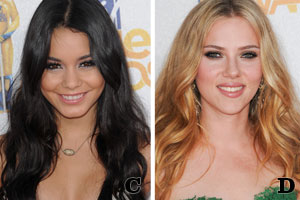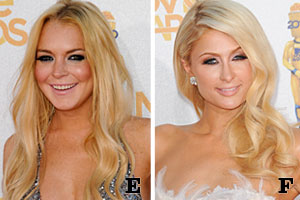 • Inspired by last night's hair looks? See how to get the best celeb styles for straight hair or one of these curly looks that are all the rage.
• And, while you're at it, find a sexy summer hairstyle (and learn how to do it!)
• Just don't forget to keep your skin ship-shape for this season with these top 10 summer beauty must-haves.
• Get more make up tips and the scoop on celebrity makeup trends.
• Want in on a little beauty discount secret? See how to get great deals and exclusive offers on beauty products here.
• Keep up with the latest in beauty -- follow us on Twitter, add us on YouTube and friend us on Facebook.