Makeup Perfect for Poolside Parties

Posted by Sharon on July 21, 2011 at 11:29AM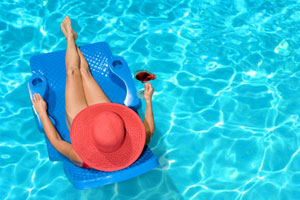 With summer in full swing and another hot forecast for the weekend, my coworker and I are planning on camping around the pool like wild animals do when they find a watering hole. But that doesn't mean we want to look the part, which is why we spent the last two weeks trying every new "waterproof" makeup product out there. Because after all, who wants to find themselves in the pool surrounded by a cloud of beige/black makeup? We boiled our search down to these summer makeup must-haves so you don't have to do the sleuthing yourselves. Want to see them? Here are our top six: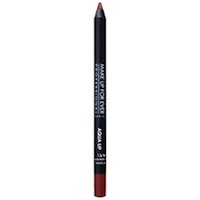 This lip liner is 100 percent nontransferable and is water and saliva-proof. All you have to do is line and fill your lips with the pencil, wait a couple minutes for the volatile oils to completely dry, then voila -- you're left with indestructible color that won't bleed. It comes in 18 gorgeous colors, including our summer favorite, coral.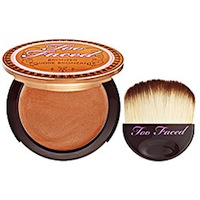 This amazing cream-to-powder bronzer is water-resistant and weather-proof. And for those of us who deal with an oily complexion, the powder finish helps control shine without drying out skin thanks to its vitamin E, chamomile, and aloe vera extract.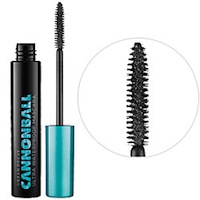 This special gel formula has been tested in the ocean and through a sweat-inducing workout at the gym and the company guarantees smudge-free lashes. Proven to stand up to water, sweat, and tears? I'm in.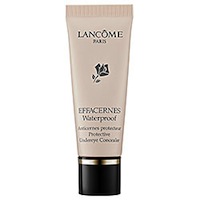 A waterproof concealer that won't crease? Tell me more! This gets rid of any dark circles you may have from staying out 'till the wee hours of the morning, and even minimizes fine lines to provide natural, even coverage.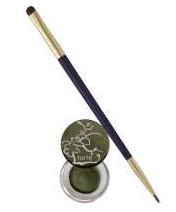 This pot of hyper-intense color will deliver great pigment to your eyes, whether you want a thin line or a smoky base of color. You can even use the brown or black pots to fill in your brows, making it a great multi-tasker.
With these waterproof babies you can have your summer makeup and keep it on, too.
Next: See the 11 best makeup looks to try this summer.