Kate Middleton's Wedding Hairstyle -- What Do You Think?

Posted by Anna on January 26, 2011 at 09:52AM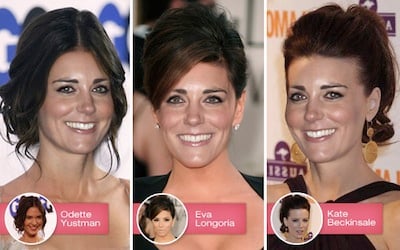 Since everyone else and their non-British mom is playing make believe trying to imagine what Kate Middleton and Prince William's wedding will be like, we at the Total Beauty office have decided to join in the non-creepy fun. I mean it's totally not weird that I have the event date circled on my calendar as if it's a wedding I will actually be attending and that I have already looked into non-stop flights to Heathrow, right?
It's also extremely un-stalker-like to envision the five things Kate has in her medicine cabinet too, so I think it's OK that we have decided, and therefore photoshop-ed, our three picks for what hairstyle we think Kate should wear on the big day.
Which hairstyle do you like best for the princess bride? Let us know. Especially because there is such a good chance of her seeing our recommendations, loving them, choosing one, inviting us to the wedding to sit next to the Queen Mum and having Elton John feed us white chocolate truffle cake on royal china.