Kate Middleton's Favorite Beauty Products (Maybe)

Posted by Anna on January 10, 2011 at 06:00PM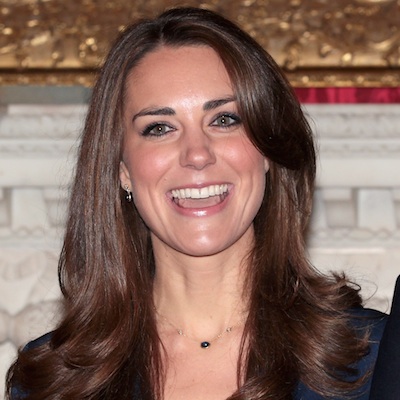 Crikey! I've finally figured it out.
Ever since Prince William and Kate Middleton announced their royal engagement, I have been strangely fascinated with Kate the Great. Although it could be because the 7-year-old in me fantasizes about what it would be like to be a Princess (Disney is partly to blame for this cuddly-forest-creatures-can-be-your-BFFs and happily-ever-afters-actually-exist obsession -- I'm convinced).
My obsession may also stem from the fact that I get sucked into media hype and therefore "tricked" into caring. Once I care, I then brilliantly reserve the right to judge Kate Middleton's cocktail of choice, which allegedly is "the 'crack baby,' a fresh passion fruit mix with vodka and champagne," according to "Radar." Then I get to cheekily suggest to readers that she better watch this Makeup Tricks To Hide a Hangover Video before the big day. Fun, right?
My fascination, I think, is really due to the fact that she is breathtakingly gorgeous. Middleton's complexion is amazing and it's because she has unlimited access to some of the best face products England has to offer. Which products are those, you ask? Well, I can't say I actually know, but …
Here are four products I love that I'm sure Kate Middleton has in her medicine cabinet too (or so I imagine):
No.1: Liz Earle Cleanse & Polish Hot Cloth Cleanser, $24.50. I had never gushed about any cleanser before using this perfect-for-all-skin-types, thick creamy one. It has a hint of a eucalyptus scent (think Noxzema light) and it honestly removes every last bit of makeup -- even stubborn mascara. Using the included muslin cloth when taking it off (which is essential) makes for a mini facial experience.
No. 2: GBaldwin&Co Pomegranate Bilberry & Rose Alcohol-free Revitalising Skin Tonic, $15. Britain's oldest beauty company (it's been around since 1844!) offers up oodles of herbal and floral remedies as well as pure essential oils and aromatherapy goodies. And, simply put, this "tonic" is like a miracle in a jar. It not only feels great going on, it smells fresh and crisp and tones my face without drying it out. Even if it didn't, I'd keep it in spray bottle in the fridge to spritz on during hot days. It's that awesome.
No. 3: Barry M Bronze Shimmer Powder, $6. Barry M is like the Hard Candy of Britain. They make fun nail "varnish" and colorful, glimmery eye shadows, all at a supremely reasonable price point. I love the shimmer powder, because it imparts just the right amount of shine combined with a smidge of bronze that gives me a perfect sun-kissed look -- even in the dead of winter.
No. 4: Cosmetics a la Carte Matte Miracle, $47. This amazing tinted gel covers up my red face with a lovely matte finish that isn't remotely drying. And, it works wonders on keeping makeup meltdown to a minimum. Love.
So now tell me, which products from England do YOU love and do you think they are why Kate's so perfectly pretty? Share here.