Jessica Simpson's Post-Breakup Girls' Night Out!

Posted by Meggie on July 20, 2009 at 04:51PM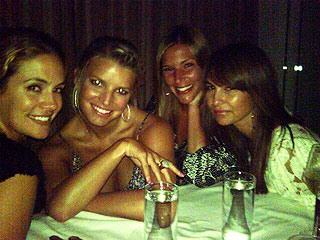 Jessica Simpson stepped out over the weekend with three of her closest girlfriends -- her first outing since her break-up with Dallas Cowboys Quarterback Tony Romo. Kudos to J Simps for letting loose instead of sitting at home in sweats, double-fisting the remote and a carton of Ben & Jerry's!
She's obviously learned the key to surviving a break-up: Surround yourself with friends and laugh your butt off! During the night out, Jessica posted this photo to her Twitter account, along with this message: "Love my ladies!!! Wish I could be with them everyday of my life. Laughter is wonderful :)"
We all know that friends and laughter are great therapy, but looking this great can also help lift those breakup blues! Jess sported a head-to-toe bronze glow and a cute braided hairstyle to beat the summer heat.
Get Jess's glow without the sun damage with these at-home self tanner tips (photos of best bronzed celebs included!)
Love Jessica's braided headband? So do we! We have a simple how-to video that teaches you how to achieve this trendy 'do by yourself -- Jess's BFF hairstylist is NOT required!
Check out more of Simpson's hairstyles here .