Jennifer Aniston without Photoshop Still Looks Great Thanks to Makeup: Copy her Look from "The Switch" Premier

Posted by Kristen on August 19, 2010 at 05:44PM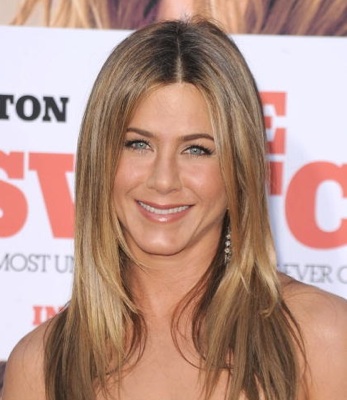 Some un-retouched pictures of Jennifer Aniston have surfaced on the grand ol' interweb and while you can see a freckle here and fine line or two there, we think she still looks freakin' great. Proving that, with the right makeup for photos, not everyone over 40 needs a "magic wand" tool to look fabulous.
Case study: The LA premier of "The Switch," Jennifer Aniston's new baby-mama-rom-com-drama, happened on Monday and whether or not you are Team Aniston (really though, who isn't?), every gal that's, ahem, getting "up-there" in age, can't help but marvel at how fresh and flawless Aniston looks. Her natural and neutral-loving signature style is by far one of the best and most sought after (unlike some of these worst celeb signature styles).
Lucky for us, and now for you, because we got the scoop on how celebrity makeup artist Angela Levin created the makeup look she gave Aniston for the premier:
"I first prepped Jen's face with Chanel Sublimage Concentrate, $400, to enhance her already radiant skin." Then Levin applied foundation (take this quiz to see which foundation you should be wearing) and dusted Aniston's cheeks with a bit of rose colored blush (try CoverGirl Classic Color Blush in Rose Silk, $5.50. For the eyes, she used a rich brown and copper shadow like MAC Eye Shadow in Handwritten and Coppering, $14.50 because "the warm shades complement Jen's gorgeous eye color," says Levin. "Starting from the inner corners of her lashes, I blended the shadow out, going from light to dark. For the liner, I used Tarte Clay Pot Eyeliner in Black, $22," says Levin.
Lastly, to really make her baby blue eyes pop, Levin finished with three coats of black mascara. "I applied one coat, then brushed out the lashes, a second coat, again brushed out the lashes, and finally a third coat using a fan brush," she says. For the lips, Levin went natural with "a beigey-peach shade, and Kevyn Aucoin Lip Pencil in Bare, $24."
• Now that you have her makeup down, get Jennifer Aniston hair.
• Don't want Aniston's hair (weird, but ok)? See how you can get the hair you've always wanted.
• And check out what your hair really needs.
• Want in on a little beauty discount secret? See how to get great deals and offers on beauty products here.
• Keep up with the latest in beauty -- follow us on Twitter, add us on YouTube and friend us on Facebook.