Hunger Strike Due to Beauty Products Ration

Posted by Kristen on September 8, 2010 at 11:37PM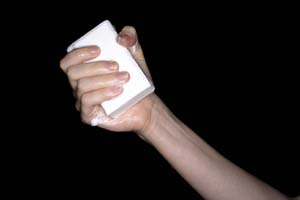 I was half listening to NPR on my commute home from work yesterday. Then, my interest was piqued when I heard the word "soap" -- as a beauty editor, I'm like Pavlov's dog when I hear anything related to beauty products (a tad pathetic, I know). Anyhoo, here's what caught my attention … Monterey County officials say about 166 inmates are on a hunger strike because of a new policy that limits their toiletries to one bottle of shampoo, one tube of toothpaste and one bar of soap per week (now they really better not drop it … badum-ching).
Why the ration? The decision was made in part because convicts often use soap for things other than washing -- they can hide smuggled goods in bars of soap, barter with it, use it in socks as a weapon and make floors slippery enough to cause jail guards to fall. Apparently one inmate had hoarded over 40 bars in his jail cell. Wow.
I couldn't help but think … how would I feel if someone put a limit on the number of beauty products I could use? I shudder at the thought. Especially since I use about, um, probably 15 different types of toiletries a day (excluding makeup). How would you feel? It kinda reminds me of this challenge one of our editors did called Could You Live Without Beauty Products for 30 Days? Well, could you? Or, just tell me how many products you actually use in a day …