How to Make Your Haircut, Manicure and Other Beauty Treatments Last Longer

Posted by Kristen on August 18, 2010 at 01:49PM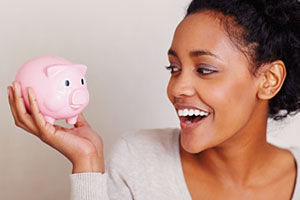 I have always sucked at math. And apparently all the beauty editors I work with also sucked at math as yesterday we admitted taking the "History of Math" or "Computer Science (aka how to write HTML code)" in lieu of trig in order to graduate college. I know what you're thinking: "too busy with Classic Hairstyles 101 or learning how to solve your biggest hair issue, eh?" Nooo, okay, well … maybe.
So how do we bring home the bacon without having mastered triangles or understanding what the heck imaginary numbers are? Math isn't as important for making money as it is for saving it (our motto, anyway). We know we can save big ol' bucks by just learning how to extend the life of our big beauty expenditures.
Case in point: we went to beauty experts to find out how much we could be saving by prolonging the results of our spa facial, salon manicure and pedicure, eyebrow shaping, haircut, hair color, blowout and even professional teeth whitening and Botox (yes, we get Botox and are proud to say it out loud).
Based on the cost savings of extending the life of these treatments we figured out that the average woman (you and me) can save $264 a year or more on beauty treatments. Here's how:
Make your manicure last longer: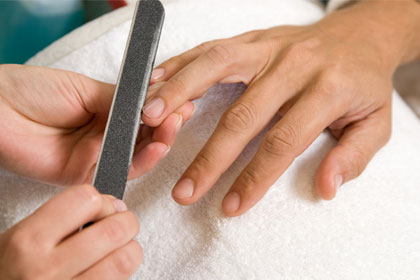 Manicure costs: About $12 (not including tax or tip)
How often: About once every two weeks
Total cost for the year: $288
With the following expert tips from Robbie Schaeffer, owner of ROB|B salon in Los Angeles, you could get one less manicure a month saving you $144 a year.
Tip 1: Keep your nails short as longer nails will always chip faster or break easier and nothing says "I need a manicure" like a broken nail.
Tip 2: Moisturized hands always look more manicured, so apply a moisturizing product to your cuticles daily. "Cuticle oil goes a long way and not only keeps cuticles healthy, it also reduces dry, flaky skin around your nail beds and can reduce hangnails," says Schaeffer. See which cuticle oil he loves here.
Tip 3: Apply a topcoat after three days if polish is still in good shape to keep your manicure looking cleaner and chip-free longer. Try Sally Hansen Insta-Dri Anti-Chip Top Coat, $5.25.
Tip 4: If possible, avoid overuse of hands. Your manicured nails aren't tools so don't try to use them to open soda cans, peel off stickers from produce, etc.
Tip 5: Hot water will lift polish off your nail bed so keep showers short, stay out of the tub, and use protective gloves when washing dishes or cleaning.
Make your haircut last longer:
Haircut costs: About $35, if you're really lucky (not including tax or tip)
How often: About once every three months
Total cost for the year: $140
With the following expert tips from Gavin Harwin, hair health expert, you could get two less haircuts a year saving you $70.
Tip 1: Keep your hair and ends hydrated. Harwin says a good leave-in conditioner can do wonders for the life of your cut. Readers and Harwin agree that Infusium Repair and Renew Leave-In Treatment, $8.99 is hard to beat when it comes to keeping your hair healthy and on a budget. Also, to keep your hair (most importantly your ends) moisturized, cut down on heat styling and excessive styling. Hot air from blow dryers, flat irons, and curlers dry out strands and cause split ends.
Tip 2: Hair accessories are a great way to get more mileage out of your haircut, says Harwin. Not only can they help you deal with growing out fringe, they can hide hair that's in need of a cut. Try a trendy style that allows you to skip heat styling and hides your ends like a slicked back ballerina bun. Run a strong hold gel through wet hair, part down the middle with a fine toothed-comb, and brush hair back into a ponytail just underneath the crown of your head. Then, twist the pony into a chignon and pin. Finish by wrapping and pinning a pretty ribbon around your bun.
Tip 3: When your hair starts to loose shape, trim your own bangs. It's not as tricky as you think. Watch this video tutorial for help.
Make your professional hair color last longer: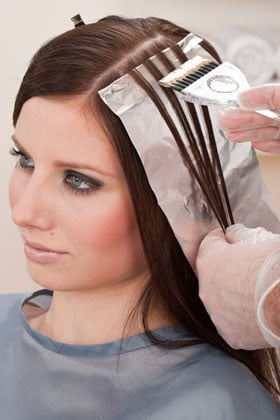 Color costs: About $50 (not including tax or tip)
How often: About 5 times a year
Total cost for the year: $250
With the following expert tips from Beth Minardi, Celebrity Colorist, you could have one less coloring session a year saving you $50.
Tip 1: Enhancing the natural color of your hair and/or moderately highlighting your shade are the most durable types of color. So, to maximize the time between appointments, go with slight color tweaks to your natural shade of blonde, red or brown, says Minardi. The further away from the natural tone you go, the more frequently your color will have to be touched up.
Tip 2: Sun, chlorine and clarifying shampoos will drain your expensive color. To protect hair from the sun, use a sunscreen on your hair like Redken UV Rescue Protective Oil, $15. If you swim in chlorine, Minardi advises to rinse hair immediately after exiting the pool.
Tip 3: Shampoos and conditioners developed specifically for color-treated hair really do work, so the short term investment in quality color protectors like these best color-protecting shampoos save you money in the long run. Minardi recommends always shampooing only once (even if hair is oily) and rinsing the hair very well.
Now imagine how much money you will save once you see how to extend your spa facial, salon pedicure, eyebrow shaping, blowout, professional teeth whitening, and injectables.
• See others ways we editors save money by checking out the celebrity makeup looks we created using only drugstore products.
• Then scope out these 10 best budget beauty tips.
• See more budget hair care and health and beauty tips here.
• Want in on a little beauty discount secret? See how to get great deals and offers on beauty products here.
• Keep up with the latest in beauty -- follow us on Twitter, add us on YouTube and friend us on Facebook.