Effective Skin Lightening Home Remedies

Posted by Stephanie on June 24, 2011 at 01:01PM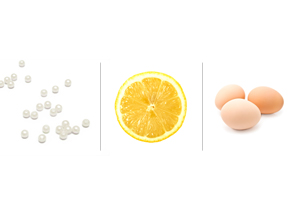 I thought about trying some skin lightening home remedies today, after reading this article on melt-proof summer makeup trends. All of the experts say I should be using only a tinted moisturizer for my face. But as much as I love the thought of ditching the weight of concealer and foundation this summer, it's hard to quit the security they provide. (My faves -- YSL Beauty PERFECT TOUCH Radiant Brush Foundation and Make Up For Ever HD Invisible Cover Concealer -- do such a great job at hiding my much-hated dark circles, faint scarring, and uneven skintone!)
It seems counterintuitive to use skin lighteners when everyone else is piling on the bronzers this season, but they can actually even out your skin tone and smooth your complexion as well. If you don't want to risk shelling out the big bucks and not see results (maybe you tried one of these products), consider giving these easy skin lightening home remedies a try.
These ingredients have skin lightening properties and can work their lightening, brightening magic on your skin when used in any combination.
Pearl Powder
This seems weird, I know, but pearl powder has long been used in traditional Chinese medicine for skin care and is a popular ingredient in many skin lightening home remedies and products. You can add pearl powder to any skincare product you currently use, or you can create your own treatment. I like to use pearl powder for a facial mask, using a combination of pearl powder, egg whites, and coconut oil 2-3 times a week for the best brightening results. Pearl powder can be found online through independent vendors.
Egg whites
Egg whites tighten pores and help balance oily skin. The high protein content makes egg whites a great skin lightening ingredient, and it can be easily applied to your face on its own, if your skin feels especially tight or dry, combine egg whites with other ingredients like honey or olive oil.
Lemon (in small doses)
Remember when you tried to lighten your hair using lemon juice in 4th grade? For a more grown-up version for your face, try our lemon olive oil mask recipe. Lemon juice is great for hyperpigmentation and uneven skin tone -- but keep in mind that it makes your skin much more light sensitive. Remember to use a moisturizer or sunscreen with a minimum of SPF 15 after using this skin lightening home remedy.
After a long day in the sun, I always feel much better after pampering my skin with a mask. I feel the skin lightening ones are the best to make up for all the sun exposure I've made my skin endure. If you don't have the ingredients to whip one up at home, you can find more options here.
Have you tried skin lighteners or these ingredients before? Let me know what you think!