Does Cheapie Drugstore Wrinkle Cream Work Like Expensive Stuff? We Tested!

Posted by Charli on January 30, 2009 at 04:17PM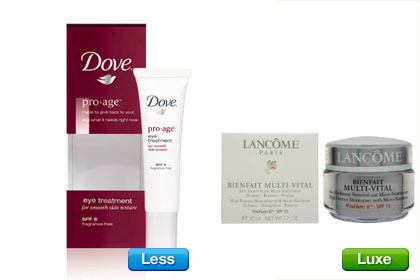 You know what really sticks in my craw? When I find out Dove anti-aging eye cream works just as well as Lancome (which costs $20-$40 more). Don't believe it? This side-by-side comparison ought to convince you ... and if not, these before-and-after photos will.
• Bummed to read this after splurging on La Prairie? Find out if you can return it here.
• Can pricey caviar and truffles miraculously improve hair? Get the truth here.
• Another money-saving tip: Take advantage of these free beauty products.