Do You Know What's Really in Your Beauty Products?

Posted by Kristen on August 12, 2010 at 05:55PM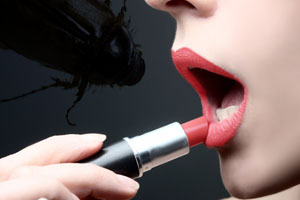 We hate to interrupt your easy and (hopefully) breezy summer day with a Debbie Downer moment, but you know that lipstick that you've been wearing since '99 (find your best lip color here)? Well, it just might have beetle juice in it. Yup, you heard us right -- we didn't stutter (and haven't downed one too many glasses of Pinot Grigio either). And the products you slather on your face, body and hair daily may also contain freaky ingredients like placenta, breast milk and even infant foreskin. It's true.
If you haven't already thrown up in your mouth a little bit, then read more about the nasty ingredients hidden in your hair, makeup and skin care products.
Gas Relief Medicine (Simethicone)
The same ingredient that helps with tummy troubles may also tame frizzy hair. Yup. See which hair care product it's found in.
Placenta (Placental Protein)
Extracts from human and certain animal placenta are known to condition skin and hair and found in certain products. However, since placenta is crucial for a baby's growth in the womb, these same extracts in cosmetics give your body a hit of hormones. See how this could be harmful to your health.
Emu and Mink Oil
According to the Skin Deep Cosmetic Safety Database, fat scraped from the back of the hide of mink or derived from emu are conditioning agents found in some beauty products. See which products they're found in.
Human Breast Milk
Some soaps are milled with human breast milk, but according to StyleCaster it's illegal and controversial to sell this type of soap in most states. (If you happen to be a new mom, try these quick hairstyles and makeup looks.)
Cochineal Beetles (Dactylopius Coccus)
Cochineal beetles eat the prickly pear cactus in South America. Pucker up because according to "The New York Times" when they are full of cactus juice, these insects are scraped off the plant, boiled and dried out and crushed into "carmine," which is used in a particular red dye that's used in some lipstick and blush. See when this ingredient may be phased out.
Infant Foreskin (NouriCel-MD)
A San Francisco-based company has patented a baby foreskin formula (no joke) in a special blend of soluble collagen, antioxidants, natural growth factors and matrix proteins that are said to help fight the signs of aging, reports StyleCaster. Or you could just use one of these winning skin firming products.
• Get more health and beauty advice, as well as the info about beauty products.
• Want in on a little beauty discount secret? See how to get great deals and offers on beauty products here.
• Keep up with the latest in beauty -- follow us on Twitter, add us on YouTube and friend us on Facebook.