Christi Harris Contest

Posted by Kristen on November 2, 2009 at 10:39AM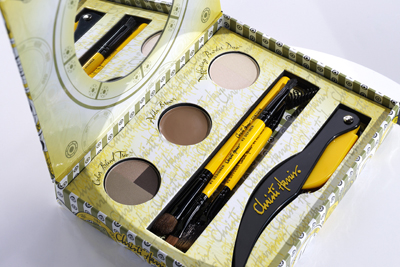 In this EXCLUSIVE Total Beauty contest, we're giving away Christi Harris Precision Brow Planing Systems to TEN lucky Facebook and Twitter fans! The kit includes everything you need for beautiful brows: The Precision Brow Planer, Adda Brow, Color Blend Trio, Duo Diffuser and five Professional Quality Brushes.
The multi-step kit walks you through the three D's of brow shaping: Design, Define and Diffuse.
DESIGN: To create the perfect brow, begin by using Christi Harris's Color Blend Trio for matching and mapping your custom shade and shape. With the exclusive Adda Brow formula you can fill in bald areas, elongate the brow tail extension, and add texture for a flawless shape with a natural finish.
DEFINE: To shape the brow, use the Precision Brow Plane to create a perfectly straight, elongated "V" shape.
DIFFUSE: To create a natural finish, use the fan end of the Diffuser/Refiner Brush to sweep Diffusing Powder Duo from end to end, blending across the entire brow. Finally use the Angled Spooley end of the Diffuser/Refiner Brush to eliminate any excess powder and groom brows.
The kit provides everything you need for total eye makeup application, making it an all-in-one collection of eye essentials. The goof-proof makeup offers an effortless "eye lift" to complement your new "brow lift."
For more information on how to use the system, check out their step-by-step video here.