Celebrity Hairstyles We Think Need a Makeover

Posted by Anna on January 10, 2011 at 06:02PM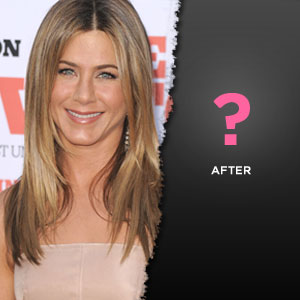 This is not supposed to happen, but it does. Celebrities, who are expected to be on top of the latest cutting-edge styles, get stuck in a beauty rut. So they are human after all.
But fear not celebrities who are suffering, we're here to help. We've given virtual makeovers to seven of you whom we think are in desperate need. Imagine us as the goodwill ambassadors of beauty coming to offer you aid. Look, we did most of the work for you. We picked the hairstyle you should try and have provided a pretty convincing rendition of what it'll look like on you. (Thank. You. Photoshop.) Happy New Year and you're welcome.
And now (drumroll, please) here are some of the seven celebrity hairstyles we'd like to make over along with our virtual transformations of each:
The target: Demi Moore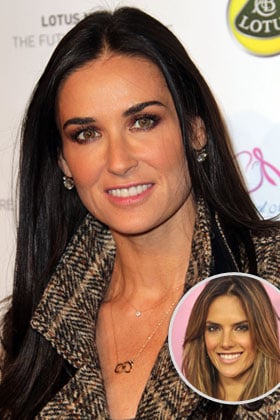 The current hair situation: Whether it's those wacky sheep placenta treatments or the love of a younger man, Demi Moore's anti-aging secrets are certainly working to keep her looking gorgeous. The one hiccup? That hair. While it's certainly shiny and looks super-soft to the touch, it is simply too long and too straight and doesn't do much to flatter her beautiful face.
The fix: Remember the super-short pixie she rocked in "Ghost" before cropped cuts were cool? While we'd love to see that cut again, she doesn't need to go that short, but lopping off at least some of the length and adding several layers would impart some much-needed movement that would give her whole look a younger, more carefree vibe. Plus, a lighter, less-severe shade would also take years off.
The makeover: Demi's (virtual) transformation inspired by Alessandra Ambrosio.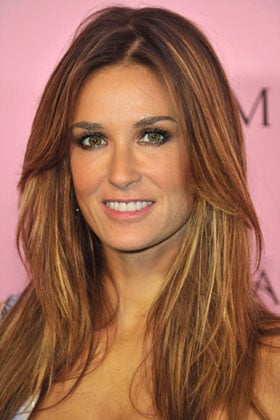 The target: Lindsay Lohan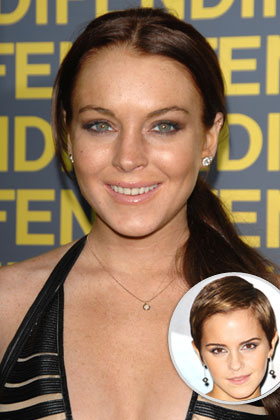 The current hair situation: Like her life, Lilo's hair has had its ups and downs and, recently it's been mostly down -- way down. But, with the (formerly?) troubled star set to embark on a new life when she gets out of Betty Ford in January, what better time to strip herself of everything old and start anew?
The fix: Let's chop off all that damaged hair as a symbol of rebirth -- one of rising from the ashes of her old, train wreck of a life and emerging a healthy, strong, improved version of her former self. And, while we're there, we can tone down the red and blonde hues of yesteryear in favor of a more mellow (and adult) light copper shade that will really make her eyes pop.
The makeover: Lindsay's (virtual) transformation inspired by Emma Watson.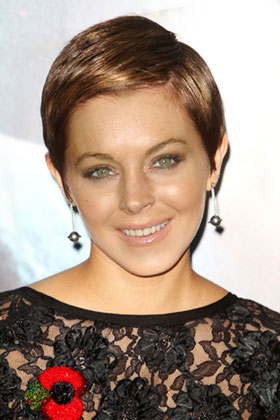 The target: Angelina Jolie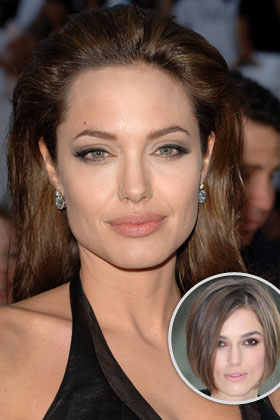 The current hair situation: You'd think that with all of the globetrotting, humanitarian work and brood-raising Angie would relish the opportunity to be relieved of her super-long hair. But, judging by how rarely she changes it, apparently Brad's the only one who likes to mix things up in the hair department.
The fix: Her hair has gotten too long and seems to lack a discernable style. Throw in the fact that the bangs are an odd length (maybe she's trying to grow them out?) and the beautiful Oscar winner seems to be drowning in a less than glamorous 'do. Our suggestion? Chop off lots of the length, add some strategically placed highlights and she'll have a chic mom cut that's red carpet-worthy too.
The makeover: Angelina's (virtual) transformation inspired by Keira Knightley.
The target: Jennifer Aniston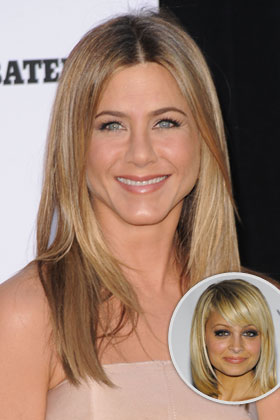 The current hair situation: How do you suggest a new hairstyle for a woman whose hair is coveted by millions of women the world over? Carefully. Sure, Jen has great hair but it's gotten so … predictable. Isn't she sick of looking at that same color and style (regardless of how iconic they are)? We kinda are.
The fix: Shortening the length and cutting a flattering bang into her famed hair would frame her face nicely and impart a more youthful feel. And, bumping up the blonde a shade or two would be a nice switch.
The makeover: Jennifer's (virtual) transformation inspired by Nicole Richie.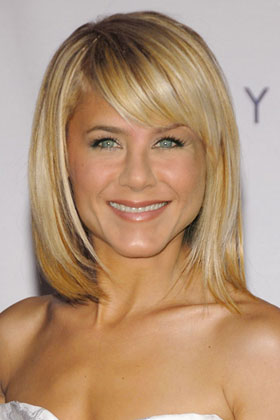 We, of course, saved some of the best celebrity hair makeovers for last. See what we did to Carrie Underwood, Rachel Zoe and Courtney Cox.