Celebrity Hairstyles Poll: Can You Spot the Real Redhead?

Posted by Kristen on July 23, 2010 at 04:50PM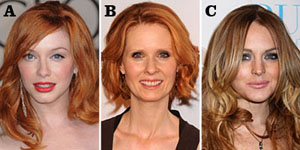 In recent beauty news, a so-called redhead confessed that she's actually a blonde (hint: she's one of the three women pictured). It got me thinking, how many other red-haired stars don't have, ahem, matching carpet and curtains?
Do you know who the only true redhead in this trio is? Is it "Mad Men's" Christina Hendricks (A) (Season 4 premiers in T minus two days …), "Sex and the City's" Cynthia Nixon (B) (see the "girls'" best and worst looks here), or starlet-turned-jailbird Lindsay Lohan (C)?
• Not a real redhead either? Pick up one of the best color-protecting shampoos to keep your scarlet hue from fading.
• Want in on a little beauty discount secret? See how to get great deals and exclusive offers on beauty products here.
• Keep up with the latest in beauty -- follow us on Twitter, add us on YouTube and friend us on Facebook.