Celebrities Do Care About More Than Just Gorgeous Hairstyles, Makeup and Gowns -- "Variety"'s Power of Women Luncheon is Proof

Posted by Kristen on October 6, 2010 at 06:07PM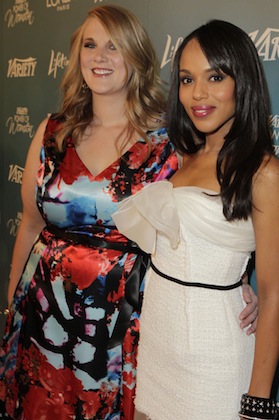 We had the honor of attending "Variety"'s Power of Women lunch last week, which is sponsored in part by L'Oreal Paris and honors celebs for outstanding charitable work. And we must admit that we were quite impressed with the shindig. Why? For starters, the celebrity guest list was impressive -- Kerry Washington, Jennifer Garner, Katie Holmes, Diane Lane, Eva Mendes, Anne Hathaway … the list goes on. But beyond that, the thoughtful work many of these celebrities are doing to help families, women and children in American and around the world, is touching and inspiring to learn about (yes, tears were shed). And they aren't just putting their pretty makeup-laden faces to the causes. You can tell they actually care about their work and want to do all they can to get others involved.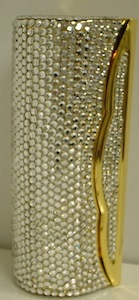 We were lucky enough to end up seated next to the lovely Kerry Washington and Shannon Lambert (photographed above) who is the founder of Pandora's Project, a non-profit organization that provides support and resources to survivors of rape and sexual abuse. She was honored for her work at the luncheon -- even though she's not a celeb (yet!). She told us that the stunning makeup compacts ($475 value) and lipstick cases (pictured here, $495 value), which L'Oreal Paris partnered with fab accessory designer Judith Leiber on, would be auctioned off on Pandora's Project and ALL proceeds would benefit her charity. Kerry (along with other celebs) would be signing the makeup compacts that day to help garner some mad cash for the charity (Amy Adams signed one!).
So why are we telling you all of this? Well, besides the fact that it's fun to learn about what celebrities do outside of their day jobs, we actually have four of these gorgeous lipstick holders -- with a L'Oreal Paris Colour Riche Lipstick in them -- to give away to YOU. See how to enter, here.