Can Coochie Cream Give You Great-Looking Skin?

Posted by Kristen on January 19, 2009 at 04:42PM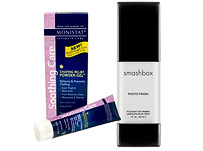 Sit down for this one. Apparently women everywhere are using Monistat Chafing Gel as a makeup primer. (Yeahhh, *that* Monistat.)
Don't even get me started about whether you really need makeup primer (find out here). But in a nutshell, it boils down to this -- you need primer if:
- You have oily skin and want to cut down on shine
- You have fine lines that you'd like to smooth out
- You have a problem with your makeup "disappearing" into your skin
Sure, Monistat shares some ingredients with makeup primers, and has the same skin feel. And it's $7, versus $36 for the wildly popular Smashbox Photo Finish Primer. So will you put coochie cream on your face?
• Not convinced? Check out these more "traditional" primers instead.
• Find the perfect foundation to use over the Monistat