Best Hair Care Products: Hairspray

Posted by Kristen on April 2, 2010 at 05:22PM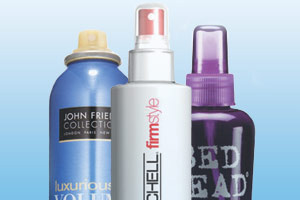 My introduction to beauty began when, at three years old, my big sis dressed me up as Cyndi Lauper -- she got to be Madonna, of course, but that's another story. She decorated my face with blue eyeshadow, overly-rouged cheeks, fire-engine red lips and a hair 'do shellacked with Aqua Net. You can only imagine how scary I looked (kinda like the celebs' on this makeup don'ts list). It was obviously long before I started experimenting with an everyday, no-makeup makeup look (learn how to master it here) and creating normal non-updo 'dos with my mom's hairspray.
Speaking of hairspray, thank goodness it also got its much-needed makeover. The hairsprays of today no longer give you that awful helmet head (circa 1980 to early '90s), and will allow you (or someone else, maybe?) to run their fingers through it. TotalBeauty.com readers have tried tons of brands at various price points, and here we share their list of the 13 best hairsprays. Read on to see why these sprays topped our list.
No. 13: PHYTO Phytovolume Actif Volumizer Spray with Keratin Amino Acids, $24
One reader said, "there is nothing better than this volume spray" as it makes limp hair "come alive." Another reader loves PHYTO for all of its "plant extracts." See how the plant extracts benefit hair.
No. 12: Sebastian Professional Re-Shaper, $14
One reader calls it "the perfect spray for touchable hair." Another reader says, "this hairspray never disappoints" because it "has a strong hold," but doesn't leave hair "plastered." See why one woman has been using it for 20 years.
No. 11: Nexxus Comb Thru Natural Hold Design and Finishing Mist, $10.99
Many readers gave this hairspray a 10 out of 10 saying that it gives them everything they want. They claim it isn't "sticky or gummy," fights humidity and is long-lasting. One reader says that it's "the BEST hairspray ever," because it is "light, yet it holds." See what readers say is the best part about this spray.
No. 10: TIGI Bed Head Maxxed-Out, $10.50
One reader says, "this spray holds really well" and "smells like grapefruit!" Thanks to the great scent, after a night out, this hairspray "gets the smoke smell out of your hair" with your 'do "still in place." Learn what it does for super thick, straight hair.
No. 9: L'Oreal Paris Elnett Satin Hairspray, $6.99
Readers call it a "miracle in a can," a "magic wand" and a "cult-status hairspray" that "holds, shines and protects!" Originally from Europe, this hairspray has created a U.S. fan base with readers having spent years hearing about it and waiting for it to arrive. See why it's worth the hype.
What product was No. 1? Click here to find out.
• Wanna put your hairspray to the test? Watch this video to copy Reese Witherspoon's updo, and then spray it to make it last.
• Are you a curly girl? See the best products for your curls.
• Looking for a new 'do? Take this quiz to see which celeb hairstyle fits your personality.
• Wanna be in the beauty know? See how to get great deals and exclusive offers on beauty products here.
• Keep up with the latest in beauty -- follow us on Twitter, add us on YouTube and friend us on Facebook.