Best Celebrity Makeup and Hairstyle Makeunders

Posted by Kristen on September 16, 2010 at 06:04PM

OK, fess up already. We know you like looking at good, bad and ugly photos of celebrities -- so do we. And since makeovers seem to get all the love, we decided to put together a gallery of the best celebrity makeunders. Scroll down to see the toned-down transformations of these gals with less makeup and hair that's not overdone. Don't they all look WAY better? We think they do.
Christina Aguilera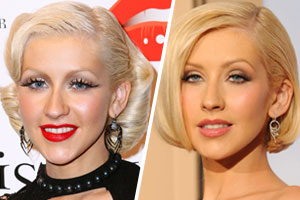 Aguilera is no stranger to over-the-top makeup looks. Case in point: Here she sports very fake lashes, shocking red lips and overly stylized hair. So, the soft makeup seen in her "after" look paired with a classy, Jackie-O-esque bob is a refreshing and stunning choice for her.
Drew Barrymore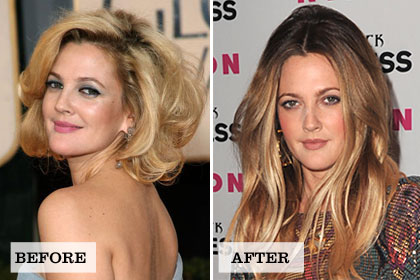 We prefer the more boho-ified Barrymore. The long, golden blonde, parted-down-the middle hair coupled with natural-looking makeup is so much prettier than the short, Mad Men gone wrong, voluminous, '60s hairstyle and frosty makeup.
Angelina Jolie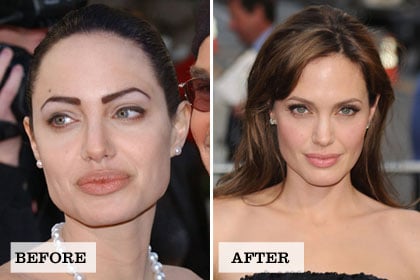 Back in the Billie Bob days, Jolie was much more Elvira-looking (what was up with those brows!?). Today with warm brown, voluminous waves and natural-looking makeup she is arguably one of the most beautiful women in the world.
Avril Lavigne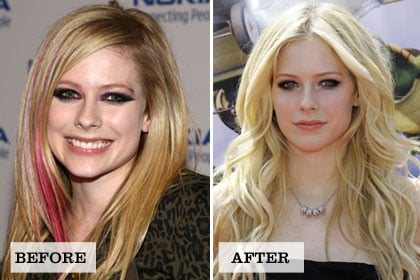 The pink highlights and dramatic, borderline Goth-looking eye makeup, well … just complicates her look. The less severe smoky eye and blonde hair (sans the pink) complements her soft features making her look more friendly and feminine.
Scarlet Johansson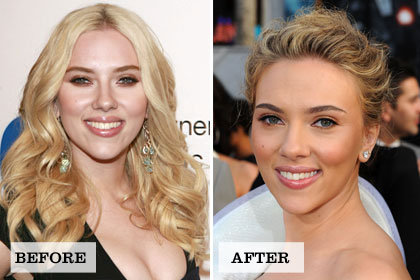 Johansson's too-blonde, almost yellow, single process color never really worked for us. She already has the pin-up thing going for her, so the super blonde hue and ultra smoky eye seen here makes her look more Playmate, less A-list. The darker blonde shade and softer makeup helps her look classier and more striking -- not just another overly blonde starlet.
Denise Richards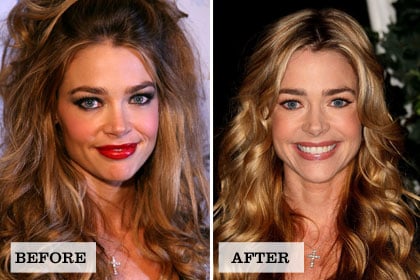 We wish we could say this photo was taken on Halloween, but alas, it was not. Richards broke beauty rule No. 1 here: Don't pair eye makeup with a bold lip. Plus, she is very beautiful, so a more toned down look is a much better choice for her. And as for her hair, that half-up, poufy number is very Barbie-like (not in a good way) and unflattering -- her loose waves are a vast improvement.