Behind the Scenes of the "Pulp Fiction" Makeover on Hit TV Show "Community"

Posted by Anna on March 25, 2011 at 01:52PM


When I was asked to visit the set of the NBC hit show "Community" for their "Pulp Fiction" episode, which aired last night, I jumped for makeover joy. Yeah I love the show and all (Joel McHale is the perfect hybrid of funny and smokin' hot), but I was especially excited because I knew that makeup artist, Pamela Lljubo-Obrien, would go all out to transform the cast into Tarantino's memorable characters.
While I was there, Lljubo-Obrien gave me the inside scoop on how she changed character Britta Perry (Gillian Jacobs) into Mia Wallace (the character played by Uma Thurman in the film).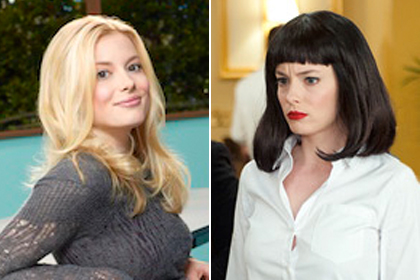 First, she said, the most important step in staging any look is the skin care. She stressed how important it was to start with a clean face, especially when the stars of the show are constantly in heavy makeup (for 12 hours or more at a time!). To clean the faces of the cast, she loves Lather products, especially Lather Sweet Almond Exfoliating Creme, $23.
Once Jacobs' face was clean, Lljubo-Obrien primed her with Jan Marini Skin Research Age Intervention Prime, $75. Then she applied Koh Gen Do Foundation, $55 to her entire face. To conceal imperfections and cover any dark spots, Lljubo-Obrien used her favorite concealer kit that she uses on all her celebrity clients, Colorescience Pro Corrector Kit, $50.
To create Mia Wallace's highly contoured look, she used the Make Up For Ever Sculpting Kit #2, $45 to define Jacobs' bone structure.
For the eyes, she started by covering the lid in Stila Eye Shadow Pan in Dune, $18. Then created a winged eyeliner look with Blinc Cosmetics Eyeliner in black, $24. To finish the eyes, she curled and coated Jacobs' lashes with black mascara.
And finally, to finish off Jacobs' transformation, Lljubo-Obrien applied a deep cherry red to the lips. All that was left after that was the black bob wig and voila, Mia Wallace was reborn on the set of "Community."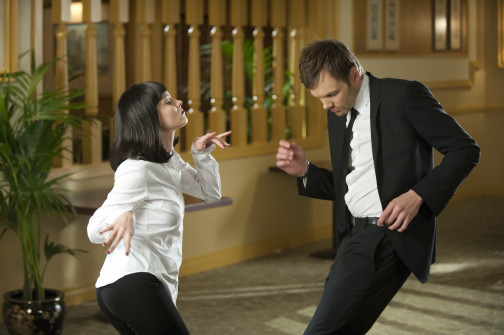 Did you see the episode? What'd you think?