Are You a Label Whore When It Comes to Beauty Products?

Posted by Kristen on April 30, 2010 at 05:44PM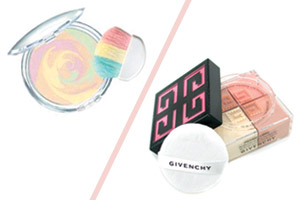 Check out the following bargain vs. splurge spring beauty products, and let us know: Are you a sucker for high-end beauty brands? Or would you rather use a product that's comparable, but way cheaper?
Anti-Aging Skin Care
Less: Olay Pro-X Anti-Aging Protocol Starter Kit, $64.97
Luxe: La Prairie Anti-Aging Premiere Collection, Limited Edition, $275
While $60 might seem like a lot of cash to shell out for an anti-aging kit (though keeping wrinkles away should be worth any price, right?), it's actually a great deal for what you get in the Olay Starter Kit -- a true steal when compared to the $275 you would shell out for the ultra-fab, but pricey La Prairie Collection. See what both brands do to fight aging.
Lip Color
Less: Maybelline New York Color Sensational Lipcolor, $6
Luxe: Yves Saint Laurent Rouge Volupte, $34
So while we love the deep pigments (and SPF) in the YSL rouge, we don't love the strong fragrance or the $34 price tag. If you're looking to save cash, it makes sense to try the Maybelline lipstick. Hear what a makeup artist has to say about these products.
Hair Color
Less: Clairol Nice 'n' Easy Perfect 10 Hair Color, $11.99
Luxe: Frederic Fekkai Salon Color, $30
Your choice comes down to how much you want to spend and how you want to apply your product. If you're not an experienced at-home colorist, we recommend going with a more fool-proof application system like you'll find in most beauty aisle hair color boxes. Read more about the similarities and differences between these two brands.
Sunblock
Less: Neutrogena Ultra Sheer Liquid Daily Sunblock in SPF 55, $12.99
Luxe: Chanel UV Essentiel SPF 50, $52
The one must-have item for spring and summer is an SPF product that will protect your skin from harmful UV rays, but not feel gunky under makeup. See if Neutrogena measures up to Chanel's 'screen.
• Get loads of health and beauty tips as well as more info on the best budget products.
• More of a fan of the "less" products we mentioned? Then you'll love the 20 best drugstore buys.
• Trying to live on a tight budget? Whip up one of these 9 seasonal DIY skin and hair recipes -- they're practically free.
• Want in on a little beauty discount secret? See how to get great deals and exclusive offers on beauty products here.
• Keep up with the latest in beauty -- follow us on Twitter, add us on YouTube and friend us on Facebook.