A Beauty Fan's Guide to Facebook

Posted by Kristen on April 20, 2010 at 05:25PM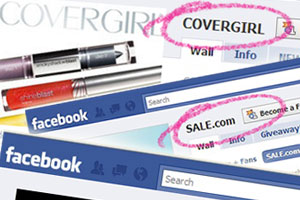 I'm a late Facebook bloomer. Until I joined, I would get hostile-ish emails from friends like, "check out this link to photos from last night's party, unless you're (gasp!) not on Facebook" and "my goodness girl, please get on Facebook so people with boring desk jobs like mine can keep track of (and stalk) you!" Just as I was starting to feel like a social-networking leper, I finally succumbed, albeit kicking and screaming.
Now that it's part of my daily cyber life my interest in it waxes and wanes, but I've been Facebooking more often since I found the 11 best beauty pages to fan (I'm all over the freebies). Check out a few below -- did your fave make the list? If not, tell me who I'm missing out on.
Sale.com
The name says it all. Sale.com alerts you of all sorts of sales (beauty sales of course, being the number one stunner) and gives you "Daily Coupons!" for you to save big bucks on fab finds. See what type of "fan-only" giveaways they offer.
Sephora
Becoming a fan of Sephora is a no brainer, but just in case it never crossed your mind, now is the time to fan them. Why? If you become a fan they'll give you beauty products. Read on to see which freebie all new fans got -- just for joining.
Hair on the Brain
This beauty writer with "A blog full of hairbrained ideas" posts about hair care products and regularly gives away some pretty sweet beauty swag if you visit her site after seeing a post about it on Facebook. See what kind of fun hair things you can score.
Meg's Makeup
Not only does Meg's Makeup alert you to beauty sales and contests, they also do their own fun and interactive contests for some pretty awesome prizes. See what fans got a chance to win after dishing about their worst hair day.
COVERGIRL
Covergirl hosts a bunch of fun contests on their website that they notify their fans about on their Facebook page and the winners don't just get a measly lipstick -- see what sweet thing you could get.
• Tweet much? Or just like to follow? Peep the 12 best beauty tweeters here.
• Need to put yourself on a beauty budget when it comes your hair? Check out this luxe vs. less hair care round up.
• Spring clean your makeup bag and find out how to repurpose the eyeshadow and lip color you've been sporting since fall.
• Check out more health & beauty info and how to get free beauty samples.
• Want in on a little beauty discount secret? See how to get great deals and exclusive offers on beauty products here.
• Keep up with the latest in beauty -- follow us on Twitter, add us on YouTube and friend us on Facebook.