Health & beauty
"The Beginning of all Beauty Is Knowing and Liking Oneself"

And other beauty quotes and mantras to live by
Think positively. It's something we've been told our whole lives -- by our parents, our grade school teachers, our significant others and even bumper stickers. Call it the Oprah Effect, but there's no denying that the idea of positivity has a strong hold on our culture. Proponents of positive thinking would have you believe that changing your outlook can cure cancer or help your lotto chances.

While those claims are yet to be proven, the power of positive thinking can have an effect on your health. Studies have shown that a sunny disposition has been shown to lower blood pressure, reduce the risk of heart disease and slow aging -- now that's a bright idea we can get behind.

That's why we put together these quotes about beauty. Scroll through these inspirational quotes when you want to feel like the the best, baddest, fittest, kindest, most beautiful version of yourself.
more stories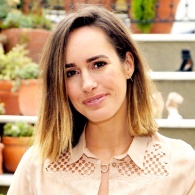 Back
to top