Quiz: Does Your Hair Color Match Your Personality?
Just because you were born with it doesn't mean you have to live with it. Answer these questions to see which color your hair should be
We've all heard blondes have more fun and brunettes are more serious. And as much as we want to roll our eyes at these generalizations, we have to wonder -- are people judging our personalities based on our hair color too?

The "Cosmos" of the world would certainly have us believe just that. Heck, even science has a thing or two to say about how our hair color impacts our lives. Researchers from University of Queensland found that blondes make seven percent more than women with other hair colors regardless of their education. (So much for the dumb blonde jokes!)

But before you reach for the peroxide, remember that there's a lot to consider when it comes to what your hair color says about who you are. To explore the idea and help you in the search for the color that represents your unique personality best, we talked to Colette Hagiwara, Color Director from Yoshi Hair Studio in Beverly Hills, Calif. and Marie Robinson, Color Director from Clairol.

So go ahead, take this quiz and get the best hue for you with personalized color consultations based on your personality traits.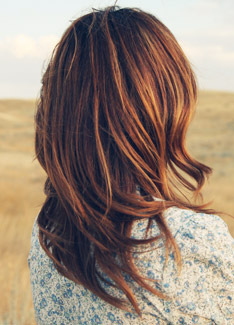 Your Results
Quiz: Does Your Hair Color Match Your Personality?
You should be BRUNETTE!

. If you're not brunette already:

Consider going for a medium brown color, since it's the most flattering shade of brown across all skin tones. A medium brown has hints of warmth in it, and Robinson says it's warm enough to enhance your skin tone but isn't too red to create ruddiness. Because of this, a warm brown tends to be more flattering than a cool brown, and it's a color that's flattering at any age.

So, should you head to the salon or the drugstore to go brunette? Robinson says if you're going two shades darker or lighter, you can make do with an at-home color. A more drastic color change is best left to a professional colorist at a salon.

Hagiwara says the most common mistake women make is choosing a color based on how it looks on the box without thinking of their existing hair color. When that happens, those women eventually end up in Hagiwara's salon chair, she says, with a color that's either too dark or too brassy.

If you have highlights, definitely go to a colorist for a consultation, because the right tones will have to be put into your hair to neutralize the highlighted strands. Otherwise, the highlighted pieces will still be lighter and brassy after a single process hair coloring. This also applies if you have some gray in your hair too, because even choosing a neutral color could leave you with greenish blue streaks.

Hagiwara says if you go with an at-home color, choose one that has a color guide on the back, since it will give you a more accurate idea of what the end color will be (try Garnier Nutrisse Nourishing Color Creme, $7.59).

If you're already brunette:

Congrats, you're one of the lucky ones who already has the hair color that matches your personality. To create more richness and depth in your brunette hair, go one shade darker than your natural color, says Robinson.

For those who love their current brunette color, a tinted gloss treatment is a great option for reviving your hair. Gloss treatments can seal the outer layer of damaged strands, giving you smoother and shinier hair.
-->