Which Party-Worthy Hairstyle Should You Try Tonight?
Whether you want to look naughty or nice, we've got the perfect hairstyle for you -- along with tips on how to create it
Oh the weather outside is frightful, but your hair looks so delightful! Wow, sorry. That last line is equivalent to a hefty serving of the corny casserole you'll soon be indulging in. It's just that we can't seem to help ourselves when it comes to the holidays. Each festive get-together gives you an opportunity to dazzle friends and family with more than just your eggnog recipe, which is why you need fabulous hairstyles.

Scroll down to start a quiz that'll determine which holiday hairstyle you should wear tonight.

But truth be told, while the holidays are a mostly joyous time, it's easy to get overwhelmed and burnt out while trying to get through them. There are so many parties, so many people, so many presents. Therefore, when it comes time to do your hair on the night of yet another event, deciding which hairstyle you should wear can feel as annoying as combing crowded malls for a parking spot. But fret not -- we're here to help.

To take one last thing off your seasonal to-do list, we designed a quickie quiz with help from celebrity hairstylist, Peter Lamas. Lamas got his start thirty years ago at Vidal Sassoon and became the go-to stylist for Jackie Kennedy and Audrey Hepburn, so it's safe to say he knows a thing or two about classic beauty. With his guidance, we'll help you find the perfect hairstyle for your special holiday occasion and learn exactly how to create it. All you have to do is answer some simple questions, starting with the first question below. Happy holidays? You bet.

* Spoiler alert: The celebrities that might be wearing your fabulous holiday hairstyle are Katherine Heigl, Sara Paxton, Mila Kunis, and Kate Bosworth.
Your Results
Which Party-Worthy Hairstyle Should You Try Tonight?
The hairstyle you should wear tonight is Katherine Heigl's glammed-up side bun. This is the perfect style for a big holiday bash or fancy winter occasion.

Here is how Lamas recommends copying this look:
Step 1: Start by rolling clean, dry hair into large velcro rollers.
Step 2: Set hair dryer on its lowest air setting to gently heat up hair without disturbing the rollers and let hair cool before removing the rollers.
Step 3: Use your fingers to break up the curls to achieve loose waves, then gather hair loosely at the nape of the neck and slightly to the side. Secure with a hair elastic.
Step 4: Working with the ponytail you've created, separate hair into thick sections and tease each section. Then wrap each section into a curl (by wrapping them around two fingers) and bobby pin the ends around the ponytail base gradually forming a loose bun. Mist with strong-hold hairspray like TRESemme Tres Spray Super Hold Hairspray, $3.99.
Step 5: Complete your look by pinning on a jeweled barrette or broche for a fancy finish.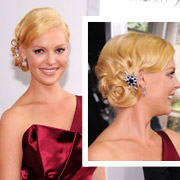 -->