What's Your Best Eye Makeup Look?
Get rid of the guesswork. Take this quiz to find out which eye makeup combos will enhance your eyes the best
If you've ever been mesmerized by the vast quantity of eye makeup colors in the beauty aisle -- but still end up walking out of the store with the same old beige eyeshadow -- you're probably stuck in a color rut.

We get it. Finding your ideal eye makeup colors is intimidating. How do you know which ones will flatter your skin tone and style and which ones will make you look like a clown?

But, keep this in mind: The eyeshadow colors that can turn ordinary brown eyes into deep pools of swirling chocolate, blue eyes into sparkling sapphires, and green eyes into emerald gems are hidden in the displays somewhere. How's that for some encouragement?

Instead of just feeling lost and overwhelmed, use this quiz as a guide to find the perfect shades to enhance your eye color. To lead the way, Laura Geller, founder of her own namesake brand, and celebrity makeup artist Nick Barose give expert advice on how to finally get the perfect combination of eyeshadow colors and products to complement your eyes.

If you're ready to make your eyes pop and command all the attention they deserve, take this quiz to find your new eye makeup look now. And, for your sake, may you never walk out of the store with yet another beige eyeshadow again.

The Best Eye Shadow for Your Eye Color at Cosmopolitan.com
Your Results
What's Your Best Eye Makeup Look?
You should wear plum or mauve shades. You most likely have green eyes and/or light to medium skin. The best shade for you is one that can really magnify the color of your iris while complementing your skin tone. If you have a medium skin tone, Geller recommends staying in soft golden tones for your eyeshadow.

Shadow: For green eyes, Geller recommends wearing shades of violet. "I really love violets and purples -- these colors make the irises look really green." Try Anastasia Illumin8 Eye Shadow Duo in My Bedford, $23. You can also wear taupe and bronzy copper colors and highlight with pinks. "Different shades of pink are generally the most universal when it comes to working with cool tones. Pinky champagne colors are best used to highlight," says Geller.

Liner: Try a very deep purple or dark charcoal, like Milani LIQUIF'EYE Liquid Eye Liner Automatic Propel Pencil in Purple, $7.99.

Mascara: "When it comes to mascara, you're talking to somebody who's a full-fledged believer that black mascara is the icing on the cake," says Geller. But, she concedes, "as long as the base is dark then you can [top black mascara] with color. If you're not wearing black, charcoal works on all green eyes." Try L'Oreal Voluminous Original Mascara Black, $7.29.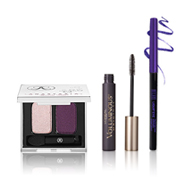 -->