What's Your Best Eye Makeup Look?
Get rid of the guesswork. Take this quiz to find out which eye makeup combos will enhance your eyes the best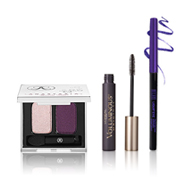 Your Results
You should wear plum or mauve shades
You most likely have green eyes and/or light to medium skin. The best shade for you is one that can really magnify the color of your iris while complementing your skin tone. If you have a medium skin tone, Geller recommends staying in soft golden tones for your eyeshadow.

Shadow: For green eyes, Geller recommends wearing shades of violet. "I really love violets and purples -- these colors make the irises look really green." Try Anastasia Illumin8 Eye Shadow Duo in My Bedford, $23. You can also wear taupe and bronzy copper colors and highlight with pinks. "Different shades of pink are generally the most universal when it comes to working with cool tones. Pinky champagne colors are best used to highlight," says Geller.

Liner: Try a very deep purple or dark charcoal, like Milani LIQUIF'EYE Liquid Eye Liner Automatic Propel Pencil in Purple, $7.99.

Mascara: "When it comes to mascara, you're talking to somebody who's a full-fledged believer that black mascara is the icing on the cake," says Geller. But, she concedes, "as long as the base is dark then you can [top black mascara] with color. If you're not wearing black, charcoal works on all green eyes." Try L'Oreal Voluminous Original Mascara Black, $7.29.
Rate this story|Avg member rating: 6