Is Your Nail Polish Color Sexy Enough?
Stop chasing trends and find your ideal shade from MAC, OPI and more
Michelle Mismas is the editor of All Lacquered Up

Nail polish is a go-to accessory but finding a color that looks hot on your nails day or night is a challenge. With racks and racks of lacquer to choose from, how do you determine the best shade for your style and skin tone? We asked Jan Arnold, co-founder of CND, and celebrity manicurist Melissa Bozant to share their tips and recommendations. Take this quiz to find the shade that will keep your nails looking gorgeous.
Your Results
Is Your Nail Polish Color Sexy Enough?
You'll look pretty in pink. From cotton candy to bubblegum, pink polishes create a sweet and feminine nail look. Dark and bright pinks make a splash on toes in the summer while creamy baby pinks work year-round.
The trick to choosing any polish color is determining your skin's undertone and selecting the shade that best enhances it. CND co-founder Jan Arnold says, "Whether fair, medium or dark, the underlying skin tone will be different for everyone. To determine yours, look at the inside of your wrist. If the skin has an orange or yellow tint, like a sunset, you are warm. If the inside of the wrist has a blue or green tint, like the ocean or sky, you are cool."
Cool tones should try lilac or blue-based pink shades (like bold CND Nail Lacquer in Hot Pop Pink, $6, or subtle Dashing Diva Polish in Pink Martini, $7.99).
Warm tones should select rosier hues (like Essie Nail Polish in Ball-timore, $8, or Nubar Nail Lacquer in Camelot Blossom, $6.99).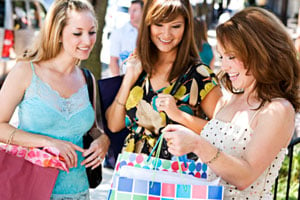 -->