Quiz: Your Best Hair Removal Strategy
Find the right process for your skin and hair type
Waxing, tweezing, lasering ... part-torture, part-godsend. But with so many choices, which method works best for you? Your skin tone, hair texture and pain threshold are all major factors we'll weed through to get your strategy set. Answer the following questions to find your ideal procedure.
Your Results
Quiz: Your Best Hair Removal Strategy
We recommend waxing and sugaring.. How they work: Wax or sugaring gel is applied in the direction of hair growth. Cloth strips are applied, and hair is removed with the wax or gel when the cloth is pulled. Wax comes in two formulations: "Strip" wax is described above, and is used on larger areas of the body, such as legs; "stripless" wax is removed by hand after it hardens -- with no ripping action, so it's good for face and brow. Sugaring works like strip wax, but offers a natural alternative to those with sensitive skin.

Cost: Facial waxing: $10 to $35; body waxing and sugaring: $15 (underarms) to $90 (full leg). Maintenance every two to six weeks. At-home kits like Completely Bare Wax Works Kit ($135, completelybare.com), or stripless kits like Poetic Cosmetics Waxing Kit ($45, blissworld.com). Sugaring: Shobha Madhu Deluxe Sugaring Kit ($60, shobhathreading.com).

Improve your game:
· To reduce discomfort, avoid waxing before or during your period. Take a pain reliever at least 15 minutes before treatment.
· Hair grows in different directions on the bikini line, so waxing small sections helps ensure hair comes off against hair growth with the least amount of pain.
· Exfoliate between waxes. Buffing with a loofah or sugar scrub like Sephora Body Sugar Scrub ($18, sephora.com) and using an ingrown eliminator (Tend Skin, $20, sephora.com) helps reduce bumps.

Warning for Accutane, retinol, AHA users: Check with a derm before treatments. You can do serious damage. If you use topical retinols or AHAs on your face, discontinue use at least a week prior to facial waxing. (Body waxing or sugaring is safe, as long as you're not using topical treatments on those areas.)

Try a safe alternative like threading. Waxing peels the top layer of skin but threading targets the hair follicle, not the skin, says threading trainer Michelle Ornstein. Bonus benefit: The thread works as a guide, which makes brow-shaping more precise, and it can remove peach fuzz effectively, says Shobha Tummala, owner of Shobha salons in New York City, N.Y.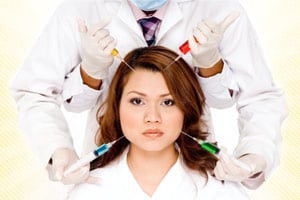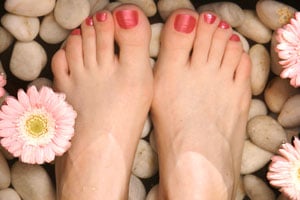 -->