Which Perfume Should You Gift This Year?
Take this quiz with your giftee in mind and it'll point you to the best women's perfume for her
Cold weather and the holidays evoke different emotions, memories and feelings in each of us. While some people might love the snow and winter sports, others can't wait for a winter getaway to soak up the sunshine and drink a tropical, umbrella-clad drink. Some of us RSVP to every single holiday invite, while others would rather stay in and drink hot cocoa or spiced rum (or whatever) by the fire. You get the picture, right? So, when you're doing your holiday shopping this year, don't assume that the winter perfume you prefer will work for the person you're buying for.

Scroll down to start taking the quiz to find out which perfume is perfect for your giftee.

We chatted with Irina Burlakova, perfumer at Givaudan (a company that creates fragrances for a number of well-known brands), to help you get some pointers on selecting the perfect perfume for your giftee. Here's how the science of this quiz works: Burlakova grouped a list of new, cold-weather-appropriate fragrances into different categories and matched them with particular scenarios, activities or times where people would want to wear a certain type of scent. After taking this quiz with your giftee in mind, the result you get will make it very unlikely that your recipient will re-gift or return the perfume you give them -- not to mention it'll take the guesswork out of which fragrance to purchase in the first place.

Oh, and if you dig this whole perfume quiz thing that you'll find below, and want to take it a step further, Givaudan has jumped on the why-didn't-we-think-of-that-app bandwagon by creating iPerfumer. Yup, a personal perfume concierge at your fingertips. Check it out and be sure to report back.


Question 1 of 6
Her idea of a perfect winter night is: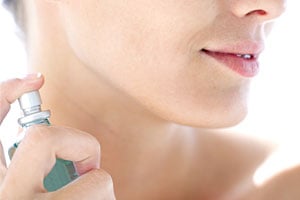 -->