What's the Best Hair Color For You?
The beautiful hair color you wear should complement your skin tone, so take this quiz to discover your ideal shade
Your skin tone has been passed down to you from generation to generation. But what you might not immediately realize is that the color of your skin determines more than whether you turn into a lobster in the sun or what box you check on the census. Not to blind you with science (insert funny '80s quip here) or anything, but the amount and type of melanin you have -- a natural substance which gives your skin, hair and eyes their color -- not only dictates which makeup colors work best on you, but also what shade of hair color is most flattering.

Scroll down to take the quiz and find out what hair color hue you should wear.

Your most beautiful hair color will bring out the subtleties of your skin tone and enhance its natural beauty. Knowing this, we went to celebrity colorist Beth Minardi, who has colored the heads of celebs including Kirsten Dunst, Cameron Diaz and Brad Pitt, to find out exactly which shades of hair color work best on various skin tones. Minardi says that "skin tone is extremely important and serves as a guide for the colorist," and generally a good rule of thumb when it comes to picking shades is, if you have cool-toned skin, your color should also be cool in tone and vice versa. If you have warm-toned skin, you should opt for a warmer-toned hair color.

Before starting the quiz below to determine which skin tone you have and thus which hair colors will look best on you, check out these quick at-home hair coloring tips:

* For the most foolproof and flawless finish, always choose a box that's within two shades lighter or darker than your current color.
* To keep hair healthy, apply color to unwashed hair. The natural oils work to protect your hair from damaging product.
* If you want to use a semi-permanent color, know that you can only go darker or hide grays. Semi-permanent hues won't lighten hair.
* There is a specified time for leaving the dye on your hair for a reason. Obey it or you could end up with two-toned strands.
* If you make a color mistake, don't try and fix it with another box of hair color. If it is a minor mishap, wash it two to three times consecutively with clarifying shampoo. If it's a biggie, bite the bullet and see a professional.

Image via Pinterest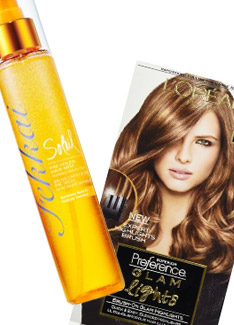 Your Results
What's the Best Hair Color For You?
Your Best Hair Color: Multidimensional Warm Russet Tones. To enhance your eyes and medium skin tone, go for soft, light-to-medium brown base color with dark blonde highlights or choose a slightly contrasted, brown on warm brown hue, says Minardi. Don't go too dark, warns L'Oréal Celebrity Colorist Kari Hill. Ultra-dark hair that contrasts with your skin tone can look harsh and draw attention to things like dark spots and under-eye circles. You can also opt for something trendier, like babylights, which are essentially superfine highlights that look incredibly natural. "They freshen everything up and allow you to hold off on full highlights, which require more maintenance, for a little longer," says Redken Celebrity Colorist Tracy Cunningham.

Highlights are usually best done in the salon (they require more skill to apply than all-over color), but there are options that make it easy to replicate salon results at home, like L'Oréal Superior Preference Glam Lights, $11.99.

Help your color-treated hair look its best and last as long as possible by following these color-care tips courtesy of Minardi:
Tip 1: Enhancing the natural color of your hair and/or moderately highlighting your shade are the most durable types of color. To maximize the time between appointments or applications (and to save cash), opt for slight color tweaks to your natural shade of blonde, red or light brown. The further away from the natural tone you go, the more frequently your color will have to be touched up.
Tip 2: Sun, chlorine and high-alkaline shampoos ("clarifying" shampoos with high pH balances) are hair-color enemies. To protect your shade from the sun, use a UV protectant that's formulated for color-treated hair like Fekkai Soleil Pre-Soleil Hair Mist, $20. And if you swim in chlorine, rinse your hair before and after you hit the pool.
Tip 3: The hype is true, shampoos and conditioners developed specifically for color-treated hair really do work, so the short-term investment in quality color protectors like these highest rated color-protecting shampoos will keep your shade rich and vibrant.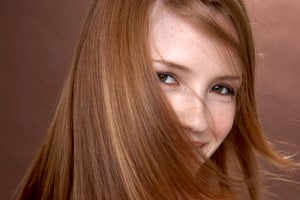 -->